Welcome to our Executive Hire's first news article for 2014. We had a great year in 2013 in terms of the numbers of clients and the quality of the tours they enjoyed as our Vacations Testimonials page illustrates.  There were a number of significant factors and developments last year. As previously mentioned, The Gathering was a great success. It sparked the imagination of the Irish community at home and abroad, bringing life to Irish Towns and bringing Irish towns to life, thanks to so many oversees Irish, friends and lovers of the Emerald Isle visiting this beautiful country they are proud to call home.  Now that The Gathering has come and gone, it leaves in its wake a 'can do' attitude and approach by both local communities and the tourism industry at large, if nothing else came of The Gathering, then that much alone will be deemed a successful return.


2013 was also a year where Executive Hire expanded its fleet of Small Group Tours Fleet of luxury Mercedes vehicles. Now all of our vehicles are new luxury Mercedes tailored for our client needs whether that be for sedan purposes, small group tours, family vacations or golf tours Ireland wide. We are very confident that no other tour operators Ireland wide have a comprehensive fleet like ours that is finished in the same level of detail, client consideration and luxury. While our fleet is often changed, one thing that didn't change, as usual, were our Private Chauffeur Drivers ad their standards that they measure themselves against that keeps so man of our clients returning annually. We like to be more than punctual, and highly presentable, but our private driver guides are most of all friendly, and will help you relax and savour your journeys and excursions, through their knowledge, experience and humour. Have is a link to our Chauffeur Tours Ireland page where you can see the services offered by our Ireland Private Guides team.
We revamped our website in 2013, and saw our traffic expand to previously unseen levels.  We will endeavour to continuously develop our Vacations Ireland photo gallery in 2014 so if you want to send us any of your photos from any of your site seeing tours in Ireland, feel free to mail us at chauffeurs@executivehire.ie
Irish Golf Tour Operator Association
Our marketing activities and investments went beyond revamping the website and saw us become an active full member of the Irish Golf Tour Operators Association. As representative of Ireland's leading and premium golf tour operators, being a member of IGTOA allows us to further enhance our clients experience. Nothing is left to chance on one of our Customized Golf Tours. All your transport, booking arrangements, tee times, fees are pre-arranged. We make it our business to get you green fees and accommodation rates that you simply wont get anywhere else.  Any golf specific services required are arranged for you, and of course, all golf transport is arranged in our tailored for golf luxury Mercedes vehicles.  We have recently invested in our fleet to ensure our golf vacation Ireland clients get unrivalled luxury, comfort and practical service.
Luxury Private Driver Site Seeing Tours and Golf Vacation Trends
2013 saw some already strong trends in luxury private driver guided tours and golf vacations further establish themselves and these will form the basis of our offerings in 2014. As European and American economies improve, the value of luxury tours and private tours market for family tours and small group vacations enhances.  We work within these market conditions to get our clients the best bang for their buck by focussing on offering our Customized Vacations Ireland portfolio for both golfers and Site Seeing family and small group touring parties. Central to our offering whether for Luxury Tours Ireland or Golf Vacations, our signature offering will be the 7 nights stay classic Ireland Vacation where you fly home on the eighth day. A number of features distinguish us from being just any Site Seeing or Golf Tour Operator, keeping in mind, our corporate mission is to provide our clients once in a lifetime experiences and dream vacations:.
Your private chauffeur guide will come and go as your itinerary unfolds which means if you and your partner or family wish to take a day or two out of an itinerary to enjoy one of our recommended Castle Hotels or luxury accommodation venues for yourselves, it's no problem.
Ireland has much to offer from the hip, cool and cosmopolitan Dublin City Centre with its world class shopping arcades and malls, to the tranquil countryside along the Shannon's banks to the wilds and sheer ruggedness of the Atlantic coast. So, our approach is to ensure you get to the end of your vacation without feeling like you've done much road mileage. You can fly into one of Dublin, Cork or Shannon airports and back out of another.
All of our personal driver guides have ten years or more experience with Executive Hire as tour guides.  This means we can be flexible on a daily basis and also while on a day trip. This can be your opportunity to take in a recommended restaurant, slip off the beaten track to visit a town or location of importance to your family history, or just to fit in something that you had not planned for.  However, we are not at all limited to the 7 nights, 8 days option, we also offer 10 nights, eleven days, and even 12 nights 13 days, but which ever option, the same philosophy and attention to details applies.
Typical Itinerary of 7 nights 8 Days Luxury Tour Ireland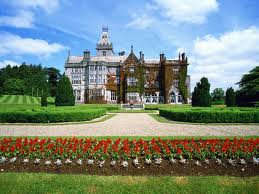 Day one, we collect you at your destination airport and chauffeur you to your accommodation, we'll know in advance everything from a logistics point o view, so relax and enjoy the ride. We will ensure we get you accommodation rates that either save you money, or allow you to upgrade, whether you are looking at a leading 4 star venue or luxury Irish Castle accommodation (see our available in-house services from Adare Manor and Dromoland Castle)
Day 2 might typically involve West Coast delights such as the Cliffs of Moher, Bunratty Castle and Folk Park and perhaps a medieval banquet! Then we leave County Clare and go to County Kerry – folks this place is so good they should have named it trice because we are going to spend 3 days here. But our clients always feel that's not enough, and indeed it forms the basis for return visits for some.  This is hardly surprising given that Kerry offers so much: The Lakes of Killarney, Torc Waterfalls, Muckross House, Lady Gregory's View, Kate Kearney's cottage and so much more. Reading this you are probably waiting to see when we mention the Ring of Kerry – well true, this Ocean Drive is pure heaven, offering Atlantic scenery and customary Irish hospitality experiences that let you know you are having the vacation of a lifetime.  After the ring of Kerry, we know you'll be looking for more, so we are back in Kerry for the 3rd of three days there, this time or the Dingle Peninsula. We'll be driving over the top of the scenic Brandon Mountains looking down on Tralee as you take in spectacular coastal scenes. Naturally we'll be taking in lunch at Dingle where its harbour will provide us with fresh catch-of-the day.
Day 6 usually revolves around County Cork and its many superior attractions. Some of the more popular choices are the Blarney Castle and Blarney Stone experience, the Midleton Distillery where the Jameson's Whiskey tour takes place. Not far from Midleton is Cobh, a quite unique Irish town that is home to a heritage centre focussing on the Titanic, who made its last port of call there, as well as other Irish Marine history and folklore. Finally, Day 7 offers you the chance to meander your way through the Adare, noted as Ireland prettiest village, with its thatched roofs, floral displays, quality restaurants, atmospheric pubs and traditional shopping boutiques where you can buy Irish lace and knitwear. You might well have stayed some nights in Adare Manor by now and this is a great opportunity to take in this beautifully unique and tranquil landmark Irish village. Just up the road is Limerick City. You may prefer to include the Lady City as an 'either' or 'and' option to Adare.  Central to Limerick City is the broad majestic Shannon River, the longest in Ireland or Britain, upon which this City is founded. With its period architecture, high Street Shopping and riverside boardwalks with tourist trails and information in abundance, you can learn a lot about Ireland's urban history.
Finally Day 8 arrives and it's time to pack up and get you back to the airport which might include one last scenic drive if time permits. Of course, we'll have you back in time to do your duty free shopping for any last minute gifts for loved ones, or perhaps some acquired favourite tipples for yourself.
You can see our 7 day 8 night offerings in more detail here at our Discover Ireland Vacation pages, we offer our Private Tours Ireland packages in 4 and 5 star luxury levels. We hope to see you in 2014. We specialise in Customized Tours of Ireland so any of these packages above can form the basis of other ideas and plans you and your family/friends may have.  Just call us 24/7/365 toll free from the US at 1 888 793 0416 and talk to Mike, your friends will thank you forever if you do as you'll be embarking on the experience of a lifetime!
Thanks for reading, Mike Ryan