Our 7 Day 5 Star Luxury Tour of Ireland
Due to increased demand for our luxury tours, we have especially created the most amazing 5 Star luxury tour Ireland to suit every pocket. We have listened to what our guests have said and with that have put together an amazing 7 day package taking in the best of Ireland whilst staying in three of the best hotels in the country. So, if you are looking for a special treat for your loved one, or maybe a romantic honeymoon in Ireland then look no further. You have come to the right place. Our drivers are some of the best in the country. They are extremely friendly and flexible and each are highly experienced tour guides. Just take a moment to have a read through our testimonials and you will see exactly how fantastic they are. They will leave no stone unturned in ensuring you experience Ireland in a very special Irish way. This Tour applies to both Shannon and Dublin airports.
Price: €3250.00 per person, minimum two people sharing, flying in and out of Shannon.
Price: €3500.00 per person, minimum two people sharing, in to Shannon Airport and out of Dublin Airport.
Your package will include:
Your Luxury Mercedes Vehicle
Your very own private driver for the entire tour
All gas, tolls & parking
5 Star Luxury accommodation in The Europe Hotel, Killarney and The Savoy Hotel, Limerick. 5 Star acommodation in Dublin on the last night; Shelbourne, Merrion, Fitzwilliam (subject to availability)
7 days of touring before departure on 8th day.
Airport Transfers
Full Irish Breakfast every morning. (Breakfast on day of arrival at Dromoland Castle, optional extra €30 per person).
Visits key attractions in Southwest of Ireland.
Transport
Mercedes S-Class Sedan (up to 2-3 guests)
Mercedes Viano/V-Class Mini-Bus (up to 6 guests)
Mercedes Sprinter (up to 12 guests)
Here follows a suggested itinerary, we can start and finish at any airport and we will customize a very special tour for you to suit your every need. This itinerary includes 7 days of sightseeing with the final 8th day reserved for airport transfer prior to departure.
Day 1 – Arrival & Transfer to Hotel
When you disembark you will be brought to the main airport terminal where you will first be met with passport control. You will then proceed to collect your luggage before walking through customs. After that you come through the arrivals door where your private chauffeur driver guide will have two things, your name on a sign right in front of you and a big welcoming smile! You will definitely know our guy because his smile will be the biggest! You arrive at Shannon Airport nice & early, typically 6am/7am. You could then take a short drive to one of Ireland's finest castle hotels, Dromoland Castle for breakfast. With an extraordinary history stretching back to the 5th Century, Dromoland Castle was originally the ancestral home of one of the few families of Gaelic Royalty; direct descendants of Brian Boru, the High King of Ireland. The breakfast here is truly amazing and believe me when I say it is fit for royalty. This is of course optional. You pay on-site on the day approximately €25.00- €30.00 per person but so worth it and a fantastic way to start your vacation. Alternatively, we could drive to your chosen hotel and check in if possible. Generally, check in is not until 2pm but we will inform them of your arrival and we will be given priority should a room become available earlier.
Bunratty Castle & Folk Park
After breakfast we will the make our way to Bunratty Castle & Folk Park and the Bunratty Woollen Mills store. One of Ireland's most visited attractions, where you can experience the Irish way of life centuries ago. Built in 1425, Bunratty Castle was restored in 1954 to its former medieval glory with the addition of 15th and 16th century furnishings, arts and crafts. At the Bunratty Folk Park experience you can enjoy the sights, sounds, tastes and scents of this enchanting place as you stroll from house to house or around the charming village street complete with school, post office, doctors house, hardware shop, printers and of course McNamara's pub!
Limerick City
We will then make our way to Limerick City, one of Ireland's oldest medieval city's dating back to 922 and was founded by the Normans. Known as the either the Lady City or Treaty City, it is Ireland's Sporting capital and designated City of Culture 2014. In Limerick we can visit King John's Castle and St Mary's Cathedral both superb examples of 12th Century architecture. Then we can visit the famous Hunt Museum, which houses a massive private collection of artefacts entrusted to the state. We will then proceed to the Treaty Stone, Limericks best known landmark which marks the signing between the Jacobites and Williamites in 1691 – an important year in Ireland's history. When the day is over and the jet lag will most certainly be setting in, we will make our way to the 5 Star Savoy Hotel to check-in. Many of our partner hotels offer everything for the discerning tourist within walking distance, including ATMs, historical Abbeys and churches, picturesque streets lined with thatch-roof housing, pubs and bars of distinction.
Overnight at the 5 Star Savoy Hotel, Limerick
Day 2 – Cliffs of Moher & The Burren Region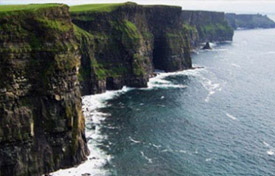 We depart The Savoy Hotel today after breakfast for the Wonderful Cliffs of Moher & the Burren. Rising from the sea to a height of 214 metres and running relentlessly for 5 miles, generations of visitors have not failed to be impressed by this wonder of the world. The Cliffs are just beautiful and there are great walks here. Regarded by many as their 8th wonder of the world. As you and your snap happy camera take in the magnificent view, you can feel the full force of the Atlantic Ocean from the floor up. Some souvenir and craft shopping can be done here also.

Then it's on to the nearby Burren region, a limestone plateau with its treasure trove of geological and archaeological interests. The Burren is home to many of Ireland's most famous prehistoric monuments. After lunch we can visit Birds of Prey at Aillwee Caves, a personal favourite of mine, where you will see Falcons, Eagles, Owls, & Hawks all hunting for their dinner! This is a great show that lasts 50 minutes. Next up is the Dolmen Graves which go back to 3600 B.C. These Neolithic graves are very typical in County Clare. We will then drive through the rugged Clare countryside and back to The Savoy Hotel for the evening. Your driver will be with you every step of the way. He will not only inform and entertain you but he will always advise you in every way he can as you go along. He can also make any dinner reservations for you, if you wish.
Overnight at the 5 Star Savoy Hotel, Limerick
Day 3 – The Best of Killarney
We sadly leave The Savoy Hotel today but fear not, there is so much more to come. After breakfast and check out, we will proceed on our journey to The Kingdom of Ireland, Killarney where we will stay in probably the most exquisite hotel in Ireland The Europe.
The highlights of our day today will be:
Lady's View – so named after Queen Victoria's ladies-in-waiting during the Queen's visit to Killarney in 1861. The views toward the McGillycuddy Reeks and the Purple Mountain Range are truly magnificent.
Torc Falls – we follow a scenic path to the top of the 18 meter high waterfall for panoramic views.
Muckross House and Gardens – this magnificent Victorian mansion forms the centre-piece of Killarney National Park.
Ross Castle – this 15th century stronghold was the original home of the O'Donoghue Ross Chieftans.
We then take a 15 min drive to the Kissane Sheep farm, where we will see some sheep shearing and some sheep dog trials. This is a great stop, sure to put a smile on your face. We will then head back to Killarney and check into one of the most beautiful Hotels in Ireland, the Hotel Europe situated on the famous Lakes of Killarney with breath taking views. Your Personal Chauffeur Driver guide will be with you every step of the way. He will be more than happy to recommend restaurants and bars for the evening and make any reservations for you that you may need.
Overnight at The Europe Hotel, Killarney.
Day 4 – Ring of Kerry
Today we drive the famous Ring of Kerry, we will visit some lovely colourful little towns along the way, full of colourful characters too! One favourite is Waterville village, Charlie Chaplin fell in love with this place and he vacationed here every year. In fact in the end he loved it so much he moved here before he passed on to better things, we hope.
The scenery here is, well maybe I should just say that seeing is believing. We can have some very nice lunch at the Smugglers restaurant overlooking the Atlantic Ocean and proceed to the top of the mountain to see breathtaking views of the Ring of Kerry. We will then drive to my favourite town on the Ring of Kerry which is Kenmare, charming, friendly, traditional, peaceful…you can judge for yourself. When this beautiful day is over we return to Killarney for a grand evening meal.
Overnight in The Europe Hotel Killarney
Day 5 – The Dingle Peninsula & Slea Head
Today we tour to the most awesome place on earth The Dingle Peninsula & Slea Head where we will see some of the most beautiful and unrivalled scenery in Ireland. Our tour will take us to the beautiful town of Dingle via the Conor Pass Mountains. The views here of Dingle town are spectacular and you can even see Tralee on the other side. You will have plenty of time to explore the lovely fishing village that Dingle is and take some lovely photos. You can also take a boat journey to see Fungi the dolphin who has been a resident in Dingle Harbour for over 20 years (optional and paid for locally).
Onwards to Slea Head to continue the visual feast of scenic Ireland. We will stop at Dunbeg fort which takes us back to the 7 / 8th century with the unusual and intriguing Bee Hive Huts. Slea head has what surely is my favourite beach in the world, Dunquinn. The movie buffs among you will be able to see and learn all about the famous Ryan's Daughter which was filmed onsite right here. No wonder as this place is simply magical. We then visit the Gallarus Oratory one of the first churches in Ireland, before some time in Dingle and onwards to Killarney via Inch beach. This is one beautiful day that you will never forget.
Overnight in The Europe Hotel Killarney
Day 6 – The Gap of Dunloe
Today is a favourite of ours, The Gap of Dunloe, it gets us up out of bed earlier than usual! We begin by taking a short drive to Kate Kearney's Cottage where we jump twice – once on an Irish Jaunting Car ( Horse & Carriage), and secondly, we jump back in time and things get pretty authentic here folks.
We tour through the beautiful mountains, mystical lakes & valleys which abound County Kerry, with majestic scenery everywhere we look. You will be able to get out of the carriage and walk through this pure and unspoiled beautiful terrain. Your camera will be snapping crazy so make sure it's fully charged!When we get to the top of the mountain you can have some light lunch at Lord Mount Brandon's Cottage.
After this magnificent lunch you will come down the other side of the mountain in an open Fisherman's boat down through the 3 Lakes of Killarney to Ross Castle. Keep your eyes peeled, on the way down you might see some eagles nests in the mountains and see some salmon swimming beside you in the lake. This tour will live with you for a long time to come, it is truly spectacular. We will then make our way back to Limerick city and check into the 5 Star Savoy Hotel in the heart of the city which is surrounded by fantastic bars, restaurants, nightlife and traditional entertainment.
Overnight at The Savoy Hotel Limerick.
Day 7- Blarney Stone & Jameson Whiskey Distillery
Today we head for the Blarney Stone & the Blarney Woollen Mills. Go on, do it! Kiss the famous Blarney Stone that millions of people line up to do every year. For over 200 years, world statesmen, literary giants, and legends of the silver screen have joined the millions of pilgrims climbing the steps to kiss the Blarney Stone and gain the gift of eloquence. Its powers are unquestioned but its story still creates debate.
Once upon a time, visitors had to be held by the ankles and lowered head first over the battlements. Today, we are rather more cautious of the safety of our visitors. The Stone itself is still set in the wall below the battlements. To kiss it, one has to lean backwards (holding on to an iron railing) from the parapet walk. The prize is a real one as once kissed the stone bestows the gift of eloquence. I think every Irishman and woman have kissed it at some stage. Blarney Castle is also surrounded by the most beautiful grounds and gardens and you will have plenty of time to explore them. You will then have time to shop till you drop and purchase all your authentic shopping in the world famous Blarney Woollen Mills right next door. They stock everything from authentic Irish Linens and lace, to Waterford Crystal at Duty Free prices and they will even ship them directly to your house for you if you wish!
After Blarney we will head to a favourite gem of mine, the Jameson Whiskey Distillery in Middleton where they make the best whiskey in the world. This is a great tour indeed. If we have time we can visit the heritage town of Cobh, this was the last port of call for the Titanic before that dreaded voyage. We can do the Titanic museum tour there. When the day is over we return to Limerick for an evening meal and overnight accommodation.
Overnight at The Savoy Hotel Limerick.
Day 8 – Departure

Today is just a transfer day and sadly we will say goodbye, your driver which by now will be your friend will pick you up from the Savoy Hotel after check out and you then take the short drive to Shannon Airport for check in for your flight home. We'll ensure you have plenty of time for check-in, and duty free shopping. We hope that we will see you again sometime, Ireland is infectious. The phrase in our native tongue says 'Go n-éirí on bothar libh' which means 'May the road rise to meet you'.
Have you checked us out on TripAdvisor? Click on the icon and see what our clients say about our flexibility and how we take care of you in a very special Irish way!