Luxury Family Tours Ireland | Dromoland Castle
Ireland is renowned for it's magnificent castles and Dromoland is no exception. Having provided luxury tours in Ireland,  and Irish golf vacations for more than a decade, both US and Canadian guests (as well as Irish guests and industry colleagues) often ask what is the best Hotel or Castle Accommodation in Ireland.  There is only one answer: Dromoland Castle.
Dromoland Castle is found in County Clare, in the mid-west of Ireland. Also known as the 'banner county', it is thought that it got this name during the battle of Clontarf in 1014 when the Dal gCais, a Gaelic tribe, carried banners across County Clare. All that's needed is a private chauffeur in Ireland to show you all the stunning sights around this beautiful County.
Dromoland Castle is 5 star luxury hotel but also a castle steeped in history, dating back to the 5th Century. Kings of Thomond descendants of Brian Boru, the High King of Ireland, once lived here and you get a sense of the royal lineage throughout this magnificent castle and grounds.
Today Dromoland Castle is a majestic 16th Century architectural masterpiece.  On reception you'll find the friendly, warm staff who are on hand to facilitate your stay and any particular requirements you may have. Your private chauffeur in Ireland will have driven you through the lush green pastures and woodland that elegantly comprise the grounds of the Castle.  Take a stroll around the Dromoland estate and take in the breathtaking scenery of the 'Emerald Isle'.  Overlooking Lough Dromoland and located on picturesque gardens (based on designs by Andre Le Notre) there are also an extensive range of activities to suit every taste in Dromoland: falconry, archery, boating, clay pigeon shooting, tennis, walking, mountain biking and golf.
When it comes to the exquisite rooms and suites at Dromoland Castle, the attention to detail is second to none. Choose from the charming Queen Anne guestrooms or luxurious staterooms and suites. With 5 star room service a phone call away, the staff are happy to arrange fresh flowers, handmade chocolates or champagne at your request, should the occasion call for it and what better excuse to celebrate than enjoying your deluxe tour of Ireland!
Dromoland is the destination of fine-dining, stemming from its devotion to serve fresh, locally-sourced food.  Both restaurants on site, The Earl of Thomond and the Fig Tree (in the Golf and Country Club), offer a selection of 5 star culinary delights from: a 6-course meal, afternoon tea served in the drawing room or a light snack in the Country Club.  There's a selection to meet everyone's needs. Or how about an eloquent picnic on the grounds of the Dromoland estate? The chef will  even prepare a special picnic basket for a relaxing lunchtime stroll.
Within these ancient 16th century Castle walls, let yourself be drawn into a world of deep tranquillity and relaxation. For those who enjoy unwinding, this luxurious spa consists of six treatment rooms, two manicure and pedicure rooms and an outdoor hydro pool.
Dromoland Castle's 2013 Boutique Spa of the Year boasts a range of dedicated treatment rooms for manicures and pedicures.  The Spa is also award winning, most recently for; the best facial in Ireland! The unique outdoor hydro spa guarantees that no matter what the weather is like you are cosily nestled under the gazebo, amongst nature and within a relaxing, peaceful environment.
If planning an Irish golf vacation then, to stay in Dromoland Castle, is a golfers' dream. Dromoland Golf Course is extensively known as one of the most exceptional 18-hole championship Golf Courses in Ireland. It is a par 72, slope 126, measuring 6845 yards.  The course presents a challenging game to any handicap, with its meandering curves and boundless diversity. The Dromoland Golf Course was redesigned by Ron Kirby and the late JB Carr who put thought into maintaining the many unique features and truly breath-taking scenery. It is complemented by a unique practice facility which has 10 fully automated driving bays, putting greens and bunker. The Club House also features the popular Fig Tree Restaurant.
Staying in Dromoland Castle means you are in the heart of county Clare and central to many fantastic locations.  The Cliffs of Moher and the Burren are a short distance away.  Taking a chauffeur tour of Ireland means that you can be transported in comfort and style to these magnificent sights and then returned safely to the castle.  Here are a few of the local spots that are very popular for visitors to behold.
The Cliffs of Moher are a local spectacular '8th wonder of the world' in county Clare.  The gigantic cliffs are 702 feet tall and stretch over 8 kilometers along the Atlantic coast.  There is a safe path that leads the way and on a fine day you can take in the breath-taking views of scenery near and far.  It's the perfect view-point of the Southwest.  On site there is also a visitor centre with a cafe and shop, the centre hosts interesting artefacts and information on local history.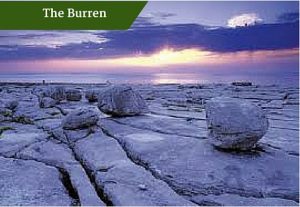 The Burren | Personal Chauffeur Ireland
The Burren National Park is derived from the Irish word 'boireann' meaning rocky place, and it certainly is!  Mainly formed of limestone rock the Burren stretches over 15,000 Acres and is the smallest National Park in Ireland.  There have been many tombs found around the Burren, made from the rocks, the famous being the Portal Dolmen, proving people have lived in the Burren for over 5,000 years.  It's a very different landscape for Ireland as there's no lush green grass and it's easy to forget with the vast area of rock that you're still in Ireland.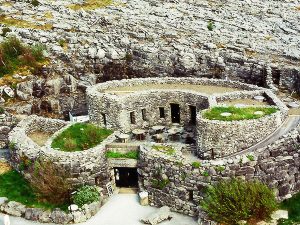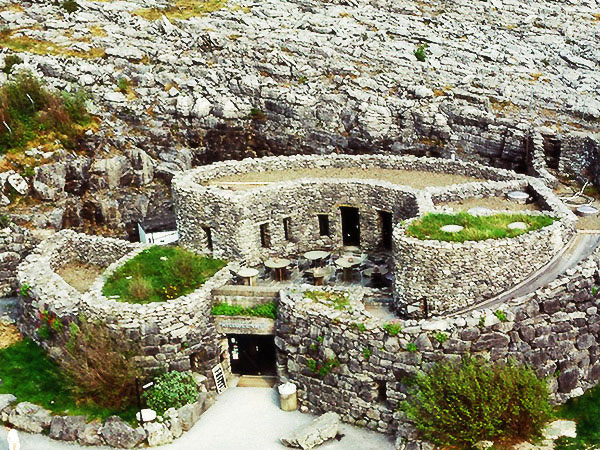 Aillwee Cave | Family Vacations Ireland
Aillwee Caves are remotely located in the heart of the Burren and is one of the oldest caves in Ireland. The name Aillwee means 'yellow cliff' (Aill Bhuí in Irish) and was discovered in 1944, by a farmer following his dog (he didn't tell anyone until almost 30 years later). The cave has an underground river, a frozen waterfall, the famous stalactites and stalagmites and even the skeleton of the extinct brown bear. Some calcite samples from the cave have been found to be over 350,000 years old making this wondrous cave a definite place to explore on your tour itinerary.
Opened in 2008 the Birds of Prey Sanctuary at Aillwee Cave is an impressive addition. Allow yourself to be entertained by the flying exhibitions of some of the world's most beautiful eagles, falcons, hawks, and owls. If you stick around long enough you could be lucky and witness the unique 'meals' these amazing winged creatures feast on, not to be missed!
Bunratty Castle and Folk Park is only ten minutes drive from Shannon airport.  It has just undergone a major upgrade and has opened its' very own Food and Retail Emporium in the courtyard of the castle.  The new emporium offers the best in food, artisanal gifts, crafts and traditional Irish produce.
Bunratty means the 'end of the ratty' (river) in Irish and the river can be seen surrounding the castle.  The castle was built in 1425 and is a very popular tourist attraction.  It hosts a medieval banquet, guests dine at banquet tables in the castle while drinking traditional Irish mead and listening to historical Irish music. The castle and the Folk park are very unique and charming.
The Bunratty Folk Park is like stepping back in time, there are a number of houses all decorated to an older day and highlight the difference in living standards.  There is also a post office, a school house, a doctor's house and many more fascinated places to freely walk around in this Folk park.  There is Durty Nelly's pub next door for some food, drink, music and a bit of Irish 'craic'.  Also a short walk from the Folk park is Blarney Woolen Mills were you can indulge in some duty-free shopping for some original Irish gifts to bring home.
That completes the tour of the wonderful Dromoland Castle and it's surrounding sights. If you are interested in a Luxury Tour of Ireland and would like more information, please click on the Enquire button below:

Alternatively, if you would like to call us directly Toll Free from the US or Canada the number is 1 888 793 0416
All the best,
Mike Ryan
Have you checked us out on Trip Advisor yet? To have a look at what our guests have to say about our Customized Tours Ireland packages, simply click the Trip Advisor icon below:

Why not check out our Social Media Page too for news, reviews and lots lots more…