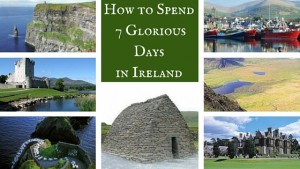 Signature Private Tour of Ireland
Now that the holiday season is finally over and a wave of calm is finally upon us, we begin to clear our heads and plan our next vacation. Ireland has become one of the most sought after destinations across the globe because of the abundance of sightseeing gems steeped in historical and cultural significance. It offers a vast selection of choice from authentic Irish castle tours to some of the most beautiful naturally occurring vistas the world has to offer.

It stands to reason that after the hustle and bustle of the holiday season, vacationers are seeking tours of Ireland that provide sightseeing at a more relaxed and enjoyable pace. Therefore, to kick-start 2016, Executive Tours Ireland have created a Signature  Tour of Ireland that promises to intrigue, excite and create many memorable moments that any vacationer will cherish for the rest of their lives.
7 Day Signature Private Tour of Ireland
The 7 Day Signature Driver Guided Tour of Ireland is ideal for couples as well as smalls groups looking to tour Ireland at their own pace. The tours are specially created with couples in mind and are custom designed for Wedding Anniversary Tours of Ireland, Honeymoon Tours of Ireland, Couples Golfing Tours of Ireland and Specialty Birthday Tours of Ireland.
There are also a choice of tours that have been custom designed to suit the individual needs of small groups that can accommodate the whole family, from the smallest to the most senior. This means that guests can visit any attraction they like, for as long or as little as they like. These tours are custom designed for Luxury Family Tours of Ireland, Luxury Small Group Tours of Ireland and Customized Golf Vacations in Ireland. Customized golf trips to Ireland include stops at Old Head Golf Links, Ballybunion, Lahinch and Tralee golf courses.
The Dingle Peninsula
There are so many magnificent places to visit in Ireland that the only difficulty you will have is choosing which place to visit first. Here are some of our favourites for you to consider. Whether the Dingle Peninsula in County Kerry is on your hit list or your bucket list, we can arrange a tour of a life time. Our Ireland Driver Guides will transport you on a picturesque & captivating excursion across the Connor's Pass Mountains to the impressive panoramas of Tralee from the extraordinary village of Dingle.
Dingle Harbor has some of the most striking landscapes in Ireland and a boat journey is highly recommended to truly value the exquisiteness. You may even have the honor of meeting Dingle Harbors' most celebrated 20-year inhabitant, Fungi the dolphin.
Slea Head
The excursion continues to one of Ireland greatest landmarks, Slea Head, which has one of the most requested sightseeing destinations and film settings, Dunquinn Beach. Movie enthusiasts will be able to walk in the foot steps of film stars and see exactly where the legendary movie, Ryan's Daughter, was captured.
A most unique destination, that we enjoy showing, year-in-year-out, is the promontory fort (1000 BC approx), Dun Beag Fort. Although its exact build date is unknown, it is thought to have been built around the same time as blockhouse forts in Scotland in the Iron age and is resident to the remarkable Bee Hive Huts.
Also of huge interest is Gallarus Oratory which is renowned as being one of the first churches in Ireland. It is believed to be over 1000 years old and is constructed entirely of dry stone masonry. It is truly a remarkable structure and one that will be a talking point for years to come.
The help you wind down even further after a relaxing private tour of Ireland, your private driver will then take you on an enchanting drive through the exquisite Killarney landscape via Inch beach.
Killarney
Additionally, your personal chauffeur who will take you to Killarney where your breath will be taken away by the delightful Lady's View. It was so-called after Queen Victoria's Ladies-in waiting, during the Queen's visit in 1861. The incredible view absorbs the McGillycuddy Reeks & the remarkable Purple Mountain Range. Close by, the 18-meter-high Torc Falls vaunts some of Ireland most stupendous panoramic views.
Muckross House & Gardens
For those who prefer viewing exquisite historical buildings, Muckross House & Gardens, a Victorian mansion, is an absolute must see. The nineteenth century mansion is set in the Killarney National Park and lies beside Muckross Lake, one of Killarney's three lakes which are renowned globally for their spectacle and magnificence.
Muckross House was designed in 1839 by a renowned architect, William Burn, for his clients Henry Arthur Herbert and his wife, Mary Balfour Herbert, who was a well known artist. The rooms are furnished in a period style and depict the 19 Century landowning class lifestyle typical of this time.
Around 1850, extensive work commenced on the gardens in preparation for Queen Victoria's visit in 1861 which was the catalyst for many upgrades to the garden over the years including the Sunken Garden and the Stream Garden. We are sure that after a relaxing and rejuvenating walk around the gardens, you will be raring to go to Killarney's Ross Castle.
Ross castle
Ross Castle is an impressive 15th century fortification owned by the O'Donoughue Ross Chieftains. It is encircled by a fortified bawn with circular flanking towers. The castle is furnished with some very unique and magnificent 16th and 17th century oak furniture and is probably one of the finest 15th century castles in Ireland.
From the old to the traditional, the tour then takes you on a short drive to Kissane Sheep farm, where you can see traditional Irish sheep shearing and watch in amazement at the Irish sheep dog trials which are sure to leave you highly entertained. There are a plethora of gift shops to peruse which offer a vast selection of traditional Irish products; Ideal for picking up vacation gifts too.
The Blarney Stone & Woollen Mills
No vacation to Ireland is complete without an Irish kiss, of the Blarney stone, that is. It really is a blast to do and promises to be a most memorable day. Ledged has it that kissing the Blarney Stone bestows the gift of eloquence and is a pilgrimage taken by many throughout the world; it is as entertaining as it is captivating. The Blarney Stone is positioned in the wall beneath the battlements. In order to kiss it, you must lean backwards (holding on to an iron railing) from the parapet walk.
Nearby, Blarney Castle offers magnificent grounds & gardens which encircle the castle. Next door, the Blarney Woollen Mills stock authentic Irish linens, lace & Waterford Crystal (Duty Free prices). They will even ship them directly to your house !!!
To experience the true Irish spirit (sorry for the pun), you must visit the world famous Jameson Whiskey Distillery in Middleton where they make the finest whiskey in the world.
Customized Tours of Ireland
To take the guess-work out of the decision-making, Executive Tours Ireland can initially design a custom itinerary and tweak it until it perfectly suits the individual needs of every member of the group. Wherever you decided to go in Ireland, whatever your heart desires, we can melt it into the itinerary.
Ireland offers visitors some of the most quant and friendly villages such as the lovely Adare with its rows of traditional thatched roofed cottages and heritage buildings, never equalled anywhere in the world.
Among the many wonderful and beautiful places to visit in Ireland, there is an abundance of high quality restaurants in which to savour the best food Ireland has to offer. The island of Ireland is surrounded by the Atlantic Ocean which provides our wonderful restaurants with the best fish you will ever eat, from salmon to mouth-watering oysters. We can recommend restaurants in every city in Ireland that we, ourselves have personally tried and return to time and time again.
The atmosphere in Irish pubs is world renowned and is partially generated by the talent of the Irish musicians which are plentiful around our beautiful country. You will be entertained no end by the many branches of traditional Irish music which come in a variety of sounds and talents.
Luxury Tours of Ireland | Hotel Partners
Over the years, we have build up a great relationship with our partner hotels so much so that your stay will always include a complimentary Traditional Irish breakfast where the black and white pudding is a must try. Its unique rich and robust flavour offers diners a reminder of the superb quality of ingredients produced for cuisine in Ireland.
We only use the very best luxury hotels that Ireland has to offer and we use markers such as location, accommodation, dining experiences and spas to determine their quality. Our "tried and tested'policy remains unchanged, "if we wouldn't stay there, then neither will our guests". Our hotel partners always guarantee an restful stay in opulence and luxury. (link)
Ireland Driver Guides | Driver Guided Tours of Ireland
The cornerstone of our Chauffeur Tours of Ireland is our private driver tour guides. Our highly experienced and knowledgeable drivers are with us from the very beginning and are among the friendliest and most flexible drivers in the country. They will be with you every step of the way and will leave no stone unturned in ensuring that every need is meet on your private tour of Ireland. (link)
Luxury Tour Vehicles | Travel in Comfort & Style
You and your guests will be chauffeured to all your tour destinations in our luxury Mercedes Sprinter, V Class and Viano Buses which are fitted with leather seats and air con in every seat, DVD players and flat screen TV's, tables, wi-fi & USB phone chargers. More importantly they come with a fully stocked fridge so that you can enjoy a glass of champagne or two on route to your Deluxe Tour of Ireland. Vehicles come with extra long wheelbase so there is plenty of room for all your golfing equipment too.
To book one of our Luxury Tours of Ireland, simply click on the following link to Contact Mike Ryan. Mike and the team at Executive Tours Ireland will ensure that you have a magnificent time in the Emerald Isle and have memories that will last a life time.
What not check out Executive Tours Ireland on our Social media:
All the Best,
Mike Ryan