Driver Guided Tours Ireland | Luxury in the New Adare Manor
(*All photographs courtesy of Adare Manor, photographer Jack Hardy)
The newly renovated Manor opened it's doors again in November 2017 and it did not disappoint. Allow us to arrange your very own Car Service to Adare Manor when you arrive in our beautiful country and start your Luxury Tour of Ireland the right way!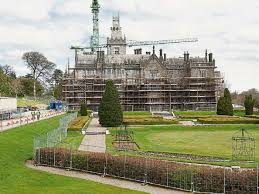 Chauffeur Tours Ireland | Executive Tours Ireland
Adare Manor closed it's doors temporarily in January 2016 for a €50 million refurbishment.  Jp McManus is the famous Limerick man behind this colossal refurbishment of Adare Manor.  He purchased the magnificent building in November 2014, along with his lovely wife Noreen and family.  They sought planning permission for the multi-million euro renovations to begin and have created over 350 job positions since it's re-opening.
2018 is set to be a massively busy year for Adare Manor and 2019 is also filling up fast, we advise that you book your vacation to Ireland early to avoid disappointment.  In the past it has housed some very famous faces: former US president Bill Clinton,  Michael Douglas, Bruce Springsteen and Tiger Woods, they are only a few of the notable names to grace the prestigious Manor.
The Library is the ideal setting to relax and absorb your exquisite surroundings. There are also light lunch and snacks available for residents in the Drawing room and Library.  If you are seeking a Mediterranean environment then the Tack Room Bar serves Tapas and beverages each evening. Your Irish private chauffeur will be at hand to drive you to one of the local restaurants if you choose to dine out.
If you choose to remain in the hotel then dinner, during your deluxe tour of Ireland, you will served in the fine dining and infamous Oakroom Restaurant, named the Best Hotel Restaurant in Ireland in 2015. Adare Manor has also earned international acclaim for its excellence in fine-dining and award-winning chefs. The Oakroom is a beautiful, intimate space overlooking the River Maigue and in 2018 will no doubt be winning more awards.
A private tour of Ireland is all about choice and there is choice galore with the accommodation in Adare Manor. The newly renovated 104 bedrooms consist of 16 Classic rooms, 63 Deluxe, 13 Staterooms, 4 Dunraven Staterooms, 4 One Bedroomed Suites and 2 exclusive Presidential Suites.
Whether you choose a Classic room or a Presidential Suite, one thing is for certain you will be treated as a VIP guest throughout.  All the rooms will have AC,  a complimentary soft drinks mini bar in each room, complimentary WIFI in all  rooms and throughout the hotel. In any room with one remote, guests can control blinds, lights, temperature, TV, music, as well as schedule wake-up calls, request valet service and so much more!
The addition to Adare Manor is a very exciting, unique feature. This is no ordinary cinema, like everything else in the new look of the manor, it exudes deluxe and comfort. Accommodating 35 guests, who are seated on large leather, cushioned chairs with their choice of beverages on offer. This is service and comfort you simply would not get in a typical cinema and everything you would expect in a luxury tour of Ireland.
In addition to the in- house spa there are 5 treatment rooms including a nail bar. Spend the day being pampered or preparing for that exclusive Gala dinner in the magnificent Ballroom. It is a VIP experience as the spa will only be available to hotel residents. There is a new indoor swimming Pool and lounge area. Perfect for a dip before or after a work-out in the modern, up-to-date Gym. Both are available for hotel guests only and not opened to the general public.
Adare Manor is also a popular Irish golf vacation choice. It is home to the number one Golf Course in Ireland and world-renowned golf course architect Tom Fazio assisted with improvements. The Adare Golf Pro-Am was the brain child of JP McManus, has raised over €100 million for good causes and as attracted famous faces and media from all over the world. The famous event that brings the very best of golf to Ireland was announced for July 2020.