Irish Luxury Golf Tours | Mike Ryan's Choice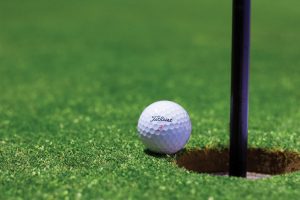 This special Golf Tour in Ireland is designed by Mike Ryan, primarily for couples or small groups who want to experience the best Ireland has to offer. The luxurious accommodations, breathtaking scenery that Ireland has to offer. This Tour works better if you fly into Dublin Airport and out of Shannon Airport, or vice-versa. Non-golfers will be treated to the most magnificent scenery in the Emerald Isles.  Mike says enjoy every moment.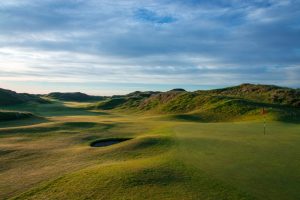 Designed in 1890, the Island Golf Club was one of the 12 first Golf Clubs to be founded in Ireland and is the third oldest in Dublin. It is an island and is surrounded by striking scenery, Donabate beach, Broadmeadow Estuary and the Irish sea. This spectacular Irish Golf Club has made a priority of protecting its' heritage and beautiful nature around it. In 2015 it was ranked as number 13 in Golf Digest Ireland's top 100 courses in Ireland.
In the past you could only reach the island by boat but now you can have a deluxe private driver take you directly to the course in luxury and style. The Golf Club has everything a golfing enthusiast could wish for, golf club, trolley, caddie and buggy hire, as well as a range of practise greens. With a pro shop on hand for any purchases and also bar and catering for much needed refreshments after a challenging day.  Everything you need for a customized golf vacation in Ireland.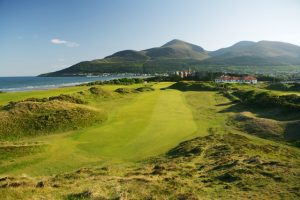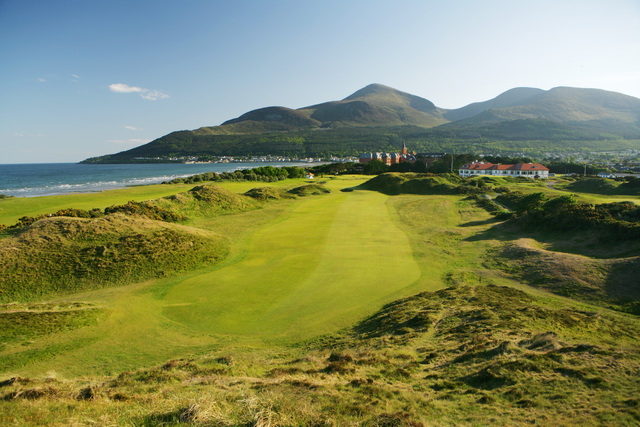 The next exclusive place to visit is The Royal County Down Golf Club, this popular Deluxe Irish Golf Links is high on the list of all golfer's to visit. Founded in 1889 the Golf Club is located in the Murlough Nature Reserve and is in the seaside resort of Newcastle in Co. Down. At 127 years old, it is one of the oldest Golf Clubs in Ireland and has two 18-hole link courses, the Championship course and the Annesley links. It stretches out over 7,200 yards along the shores of Dundrum Bay, making it one of the most naturally stunning courses in the world.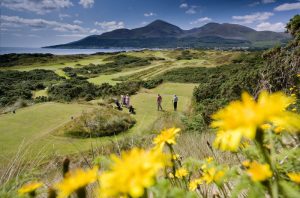 To play this course is an absolute test of any player's skills. Because of the natural settings with gorse and heather, if your shot strays off course you could have a tough game ahead. Also the 'bearded' bunkers are infamous and requires the player's concentration. The Royal County down has made impression contributions to Irish Golf and was only the second venue to host the Walker Cup. Most recently, this year 2016, Golf Digest named it the best Golf Course in the world.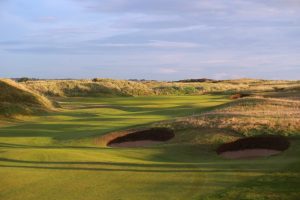 Portmarnock Golf Club opened in 1894 with just 9 holes, it was later extended to an 18- hole course in 1896 and then a further 9 holes joined the course in 1971. This distinguished course, designed by Bernhard Langer, is 117 years old. Portmarnock has a flat green which makes for relatively easy-going fast play, each hole however is unique. It is a world-wide known, challenging course.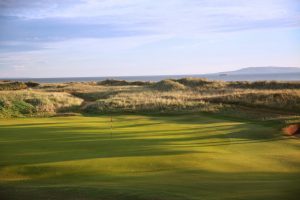 Portmarnock is thought to be the best Championship Course in Ireland and was ranked by Golf Digest and the best Golf Club in Ireland. Portmarnock was also the venue for the first Irish Open in 1927. Upon his visit there Tom Watson's view on Portmarnock was:  "There are no tricks or nasty surprises, only an honest, albeit searching test of shot making skills." Portmarnock was also the venue for the first Irish Open in 1927.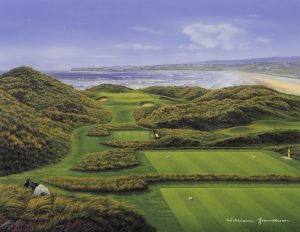 Found County Clare, Lahinch is a popular surfing resort with its' world-famous Golf Links Course. Founded in 1892 it was redesigned and the new 18-hole course was opened in 1927. It has two 18-hole courses, the Old Course and the Castle Course.
Lahinch hosts the annual South of Ireland Championship, an amateur golf tournament, since 1895. It's signature hole 'The Dell' is famously known all around for it's difficultly, it is a tough 150 yards par 3. The Golf Club is set on the edge of the beach with surrounding sea views, it's no great surprise that Golfing Magazine named it Irish golf links winner 2015.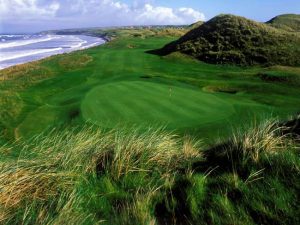 Founded in 1893, Ballybunion Golf Club is home to two testing course, the Old Course and The Cashen Course. Ballybunion is in County Kerry, on the southwest coast of Ireland. It was founded in 1893, starting off as a 9-hole course before later expanding to 18 holes, in 1927.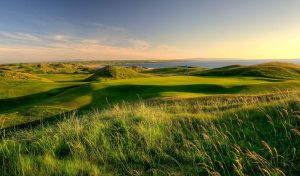 Although its' remote location has lead to few championships being held here, Ballybunion Golf Club has been a consistently popular amongst those wishing to be challenged. It's remote location is no concern to as your Irish private chauffeur will get you there and back. The Club has grown in reputation of high standards through the years and has seen many famous faces, including ex-American President, Bill Clinton.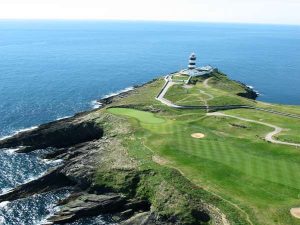 Extending over 2km out onto the Atlantic, the Old Head Golf Course rests on 7220 acres of land. It's located in Kinsale, Co. Cork, famously known as the as the nearest point to where the Lusitania was sunk by a German torpedo during World War 1, in 1915.
The course was originally designed as a walking course and though challenging this is still encouraged today. The dramatics surroundings of clifftops, makes this a very memorable golf tour in Ireland. It has been labelled 'one of the most beautiful Golf Courses in the world' by the PGA advisory board. Each hole gives astonishing panoramic views of the Atlantic and give the feeling of playing on the gigantic sea. It is a much sought-after golf experience by players throughout the world and part of our Irish golf vacation packages.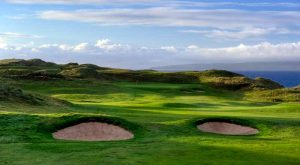 County Kerry brings us to Tralee Golf Club. Founded in 1896, it was later redesigned (by Arnold Palmer) and opened as it's present day course in 1984. There are spectacular views of the beach, made famous for the film 'Ryan's Daughter' beach scene which was shot here, and subsequently the 17th is named after the popular film.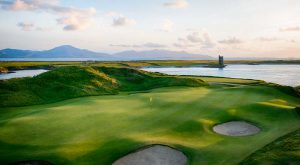 The 18-hole course is a par 72 and stretches to 7,000 yards. With over 1,300 and visitors from over 30 countries the beautiful surroundings of Tralee are sure to keep attracting many more enthusiasts from around the globe. There is an abundance of stunning scenery around this stunning Golf course, with its' majestic mountains in the background and castle views.
That completes Mike Ryan's Choice of just some of the best Golf Links in Ireland, there is so much to see and do in our wonderful country. If you would like further information on a Luxury Golf Tour of Ireland, or would like more information on any of our tours then please click the Enquire button below:

Alternatively, if you would like to call us directly Toll Free from the US or Canada the number is 1 888 793 0416
All the best,
Mike Ryan
Have you checked us out on Trip Advisor yet? To have a look at what our guests have to say about our Customized Tours Ireland packages, simply click the Trip Advisor icon below:

Why not check out our Social Media Page too for news, reviews and lots lots more…