Irish Luxury Golf Tours | South West Ireland Golf Vacation
Tralee, Ballybunion, Doonbeg, Lahinch, Waterville and of course unique to the whole world the Old Head of Kinsale, just out of this world… these are some of the most legendary names in golf and they are all found in our beautiful country, Ireland. Our tiny emerald green isle is famous for its celtic history and monuments, saints and scholars yes, – but also for its golf and hospitality or 'craic' (Irish word for fun), and it can all be experienced just how you like it. Whiskey tastings, good food, shopping, historical homes and gardens – we can customize your Irish Golf Vacation to your own requirements.
Founded in 1927, Lahinch Golf Club is one of the oldest golf clubs in Ireland and a wonderful place to begin a customized golf tour of Ireland. There are two courses, the Castle Course and the Old Course. Starting off, let's take a look at the Old Course.
Established in 1892, and designed by Tom Morris/Alister MacKenzie, the Old Course has often been compared to Saint Andrews by the top world ranked golfers. When it was completed Mackenzie stated "Lahinch will make the finest and most popular course that I, or I believe anyone else, ever constructed". The Old Course is visually breathtaking, it looks out on the Atlantic Ocean and is subject to calm cool breezes and full on blustery winds. The old course has an array of exceptional golf holes that utilizes the surrounding natural terrain to optimum advantage.
Next we have the Castle Course, a short distance away. The Castle is a shorter course, a par 69, and 5,488 yards. General opinion is that it is easier than the Old Course, but the array of holes will challenge both new and experienced players. The Castle differs from the Old Course as it is flatter, with wide fairways and no dunes. On arriving at the 6th and 7th hole you will get a great view of Dough Castle, from which the course is named. Little has been changed on the Castle Course since 1963, when it was laid out by Commander John Harris and is great fun to play. Lahinch Golf Club is a great place for a deluxe Irish golf vacation, as it hosts the south of Ireland Amateur Golf Championship every year and should be on every golfer's itinerary.
Next on your Irish Golf Tour is the Doonbeg Golf Course designed Greg Norman, the two-time British Open Champion. The course is pretty unique as it forms a crescent shape along 1.5 miles of beach and sand dunes, while playing a round you are treated by views of the Atlantic. Doonbeg was officially opened in 2002, and was awarded European Golf Resort of the Year by the IAGTO, as well as Golf Digest's 'Best New International Course', in 2010.
Because of Normans design, the average time it takes for a round of golf is four hours and thirty minutes. The par 72 layout centres on a single loop of 6,885 yards from the back tees, as a result, Doonbeg has a challenging combination of five par 5's and five par 3's. Which, is no wonder it was voted number two in the top 10 new golf courses in the world by Sports Illustrated.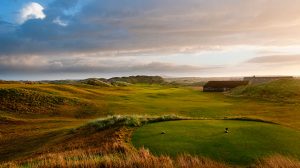 Because of the location on the coast, wind plays a huge factor on every game, the direction and wind speed make playing each hole a different experience every time. There is a resident golf professional available to help players improve their game, instruction is available for individuals and groups annually. Also available, to compliment the in-house instructor, there are also expertly trained caddys, on call to improve your score and overall experience.
Other facilities at Doonbeg include: a driving range, where you will find this is the ideal place to practise before tackling one of the best golf links in Ireland. Golf lessons are also on offer for private or small group tours throughout the year from beginner to advanced and now our junior club to make a family vacation fun and engaging.
Waterville is located on the beautiful Ring of Kerry, constructed by course architect, Eddie Hackett, it has long been a favourite luxury golf vacation spot for discerning golfers. Surrounded by the Inny River and open Atlantic Ocean, Waterville was recently updated by Tom Fazio the world renowned architect and was praised by Mark O'Meara and Tiger Woods for its near perfect design. Waterville hosted the Kerry Gold Classis from 1975-1977, (which was won by Tony Jacklin) and since been a regular vacation spot for David Duval and the late Payne Stewart.
Shortly after the tragic death of Payne Stewart in a plane crash, in 1999. Waterville golf club unveiled a bronze statue of him which was attended by professionals, family and friends.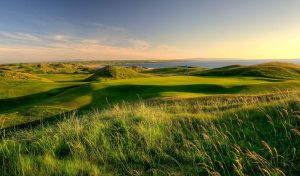 All 18 holes at Waterville are feature holes, Hackett himself, on record stated his affinity for the 12th the "Mass Hole" he said, the "Local contractors told me they weren't going to touch ground there because Mass was once celebrated in hollow during penal days", which is where the par 3 gets its name. The Green is considered one of the finest in the country, and the views from it are awesome to behold. It's a wonderful feeling to be playing a hole while the cool Atlantic breeze blows across it.
Ballybunion Golf Club was founded 1893. It is home to two uniquely and challenging links courses the Old Course and The Cashen Course. Ballybunion has enjoyed welcoming international visitors to the Club for many decades, not only for the high quality of both courses but also for the club's facilities including: a Driving Range and three putting greens (two beside the clubhouse and the third putting green located near the 1st tee on the Cashen Course).
If you are finding the going difficult why not enquire about the services of Brian O'Callaghan the Golf Professional. Brian is available for private guided tours and group lessons; to teach bump and run chipping, playing in the wind, putting and bunkers.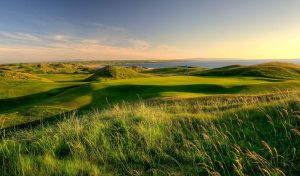 The Old Course is the original course at Ballybunion Golf Club and is classed as one of the best golf courses in the world. The first seven holes are a gentle learning curve, (then the layout can be quite challenging) it features narrow, contoured fairways that can be almost claustrophobic play on to the ninth, it becomes obvious why it is a luxury golf vacation spot and why it is ranked as one of the best in the world.
The Cashen Course requires precision to get to the fairways or you will find your ball will frequently disappear around corners, worse still you will run out of fairway and find your ball embedded in marram. The Cashen Course also contains many blind shots and well-guarded greens, making a caddy's life tough trying to keep track on your ball as it whistles out of sight over yet another dune.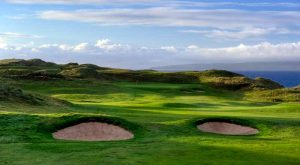 Tralee Golf club is located in Co Kerry, on southwest coast of Ireland. Tralee Golf Club was designed by the one-and-only Arnold Palmer. Surrounded by the Atlantic, Tralee offers breathtaking views on all sides. The area surrounding includes castles, distant islands, towering mountains and the famous beach that was featured in the film, Ryan's Daughter. Tralee Golf Course is considered a golfer's paradise, these stunning links represent a true challenge to veteran players and is widely hailed as one of the finest 18 holes in Ireland.
While playing this hole Peter Dobereiner stated that "it is the most magnificent backdrop for a golf course I have ever encountered". The 17th hole named Ryan's daughter, after featuring in the award-winning film by David Lean. Looking down over the cliffs you are taken back by the miles of beach, stretching as 'far as the eye can see', taking this route your personal driver can easily show you where most of the scenes from the film were shot.
Arguably the most memorable hole on the course, the 17th plays from a high tee, across a gap, to a green contrasted against mountains.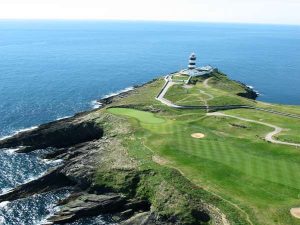 The Old Head Golf Links near Kinsale is one of the world's most unique and dramatic courses, built by Ron Kirby, Paddy Merrigan, J. B. Carr and the late Eddie Hackett, in 1977. It sits on a 216-acre headland jutting out more than 2 miles into the Atlantic Ocean. The entire course stretches for more than 7,000 yd, nine holes of play along the cliff-tops and all 18 holes give you an unmatchable view of the ocean. Overhead, along the 300 foot cliffs swooping cormorants and peregrine falcons, make their nests (as well as other rare Irish birds).
Old Head, is a tough par 72, with five Par 3's, eight Par 4's and five Par 5's, sspread out to over 7,200 yards. With the ever-changing sea breezes, the course provides a challenge to the professional and amateur alike.Originally designed as a walking course, visitors are encouraged to walk the old head with a club Caddy to really appreciate the work and stunning views on each hole. Old Head's Caddy Program is among the worlds most intense and professional.
There you have the ultimate South West Golf Tour, for your own customized Golf Tour of Ireland please press enquire below:

Alternatively, if you would like to call us directly Toll Free from the US or Canada the number is 1 888 793 0416
All the best,
Mike Ryan
Have you checked us out on Trip Advisor yet? To have a look at what our guests have to say about our Customized Tours Ireland packages, simply click the Trip Advisor icon below:

Why not check out our Social Media Page too for news, reviews and lots lots more…