The Burren National Park is a short journey from the cliffs in your private driven vehicle. The name Burren is from the Irish word 'boireann' meaning rocky place, and it certainly is! Mainly formed of limestone rock the Burren stretches over 15,000 Acres and is the smallest National Park in Ireland. There have been many tombs found around the Burren, made from the rocks, the famous being the Portal Dolmen, proving people have lived in the Burren for over 5,000 years. It's a very different landscape during your trip to Ireland as there's no lush green grass and it's easy to forget the the vast area of rock landscape is still the Emerald Isle.
Aillwee Caves are remotely located in the heart of the Burren and is one of the oldest caves in Ireland.  Opened in 2008 the Birds of Prey Sanctuary at Ailwee Cave is an impressive addition.  Allow yourself to be entertained by the flying exhibitions of some of the world's most beautiful eagles, falcons, hawks, and owls.  If you stick around long enough you could be lucky and witness the unique 'meals' these amazing winged creatures feast on, not to be missed!
After a day of exploring the magnificent Cliffs of Moher then you need the pampering at the 5 star Savoy Hotel. It is a luxury boutique hotel located in the heart of Limerick City within a vibrant shopping and theatre district of Limerick City in south-west Ireland. The luxurious hotel offers spa treatments and delicious dining. If a deluxe tour of Ireland is what you're looking for then this hotel delivers!
There is so much to see and do in our wonderful country. If you would like further information on a Tour of Ireland, or would like more information on any of our tours then please click the Enquire button below:

Alternatively, if you would like to call us directly Toll Free from the US or Canada the number is 1 888 793 0416.
All the best,
Mike Ryan
Have you checked us out on Trip Advisor yet? To have a look at what our guests have to say about our Customized Tours Ireland packages, simply click the Trip Advisor icon below: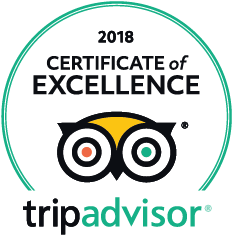 Why not check out our Social Media Page too for news, reviews and lots lots more…