Welcome to the Ring of Kerry
The Ring of Kerry has some of Ireland's finest beaches that that has attracted Small Group Tours as-well as  Family Friendly Vacations in Ireland.
This unspoiled region of Ireland has a natural beauty beyond question and is famous for its outdoor activities including walking, running and golf.
The ring itself is a road that's steeped in Irish history that takes you from centuries old forest passing through rugged landscapes home to wild stag to crystal clear waterfalls filled with wild salmon. It's a road that shows you the real meaning of a holiday in Kerry, Ireland.
Tralee Golf Club
As part of our Deluxe Golf Trips Ireland Tralee Golf club is Located on southwest coast of Ireland. Tralee Golf Club was designed by the one and only Arnold Palmer.Palmer was quoted  as has "I have never come across a piece of land so ideally suited for the building of a golf course." Every hole is as you would expect perfectly created with beautiful ocean views from every hole. The fairways lined with deceptive rough, greens covered in fescue and towering dunes. The courses 12th arguably the most difficult hole, a long downhill par-4 with heavy rough on the right and a tricky wall on your left, any caddie worth his salt will tell you accuracy off of the tee is key.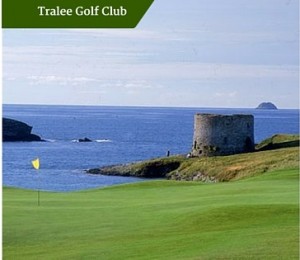 Tralee Golf Club | Golf Transport Ireland
Image courtesy of  www.greengolfball.com
The Tralee club house
As one of the finest golf clubs in Ireland and Europe Tralee Golf Club boasts itself on having the most up to date modern amenities for its patrons. The houses dressing rooms are equipped with with specially designed facilities such as shower areas and steam and Locker rooms. Before you play a round of golf you can warm up with the clubs practice area here you can allow you check the current conditions, markers are placed at intervals to help you gauge how far you are hitting. The Bar and Restaurant has excellent food and drink on offer so you can relax and enjoy the sound and sights of the wonderful surroundings while on an Irish golf vacation.
Tralee Golf Club House | Deluxe Ireland Golf Packages
Image courtesy of www.link2ireland.com
Tralee golf club Bar & Restaurant
The bar & restaurant has an experienced, friendly staff, great music and food, combine this with some of the most remarkable views of any golf clubhouse in the world equates to is a relaxing affair. The Bar offers a great pint of Guinness which can be enjoyed whilst and discuss your round of golf. The majority of the course can be viewed through the glass wall overlooking the landscape. The restaurant stocks and cooks a range of specialty meals all produced with the freshest local produce. There is also a lounge with TV and internet for keeping an eye on the scores from the majors.
Image courtesy of www.link2ireland.com
Dooks Golf Club
Dooks is One of Ireland's Oldest Golf Courses that should be included in every customized golf package in Ireland . If you are on a Deluxe golf tour in Ireland do not miss the opportunity to play Dooks, a truly stunning golf course. Experience the breathtaking views and course that will challenge any golfer. Dooks Golf Club first opened in 1889, making it one of Ireland's oldest courses. The course stretches across three wide-ranging stretches of sand dunes at the entrance of Dingle Bay. The layout with its narrow fairways and contoured greens includes dunes that pitch and roll throughout the course. Dooks' unique landscape has a variety of gorse, wildflowers, heather, that complement the incredible views in every direction, McGillycuddy's Reeks mountains to the east, the Glenbeigh hills to the west, and the Dingle Mountains to the north.
Image courtesy of worldtourismtips.com
The Course
Dooks Golf Club is one of Ireland's oldest courses. The course stretches across three expansive  sand dunes at the entrance  of Dingle Bay. The layout with its narrow fairways,rolling contoured greens and sand dunes that pitch and roll throughout make,  Dooks' a unique landscape  covered in a in gorse,wildflowers and heather. Every view is simply breathtaking, with the McGillycuddy's Reeks mountain to the east, the Glenbeigh hills to the west,  and the Dingle Mountains to the north.
Image courtesy of   www.dooks.com
Dooks Club House
Dooks illustrious Club House is  noted for its friendliness and easy going atmosphere, way back in 1976  the decision was taken to reconstruct the clubhouse. Even though it was extensively remodeled enormous care was taken to ensure it retained its old world charm.  The warm and traditional greeting you will receive passing the doors of Dooks is unrivaled making you will feel immediately at home.
F or visiting golfers the Clubhouse  offers all inclusive  Locker facilities,  Bar/Dining room and Pro-shop and.  After ad day on the green  why not relax and browse the restaurants fine menu and have a chat  with the members.The menu includes full meals as well as light snacks and hot beverages, all freshly prepared with local produce   The bar and dining facilities offer visiting golfers the opportunity to relax in comfort and the opportunity to chat with the members.   A menu which includes both light snacks and more substantial meals, all freshly prepared using local produce .
Image courtesy of   www.dooks.com
The King Puck Fair
Aonach an Phoic which translates to "fair of the He-Goat" is a three day festival that is part of  a Customized Tour of Ireland and takes place in killorglin Co Kerry beginning on the 10th of August every year. Traditionally a wild mountain goat is is caught and brought to the main square to be crowned by the Queen of the fair, usually a local school girl is chosen as queen and when she crowns the king the festivities officially begin.
The first day a horse fair takes place as tradition has it is, with the second day belonging to the cattle fair, along all streets you will find buskers, face painting,  street artists and every type of vendor selling their wares to tourists  gathering in Killorglin from all over the globe. During the festival pubs are granted late closing licenses until 300:am, so everyone can enjoy traditional music & dancing, concerts and storytelling as part of the three days of  family entertainment.
Statue of King Puck, Killorglin | Luxury Tour Operator in Ireland
Image courtesy of  www.houseoftravel.co.nz
Ballycarbery Castle
Ballycarberry Castle is located  down by the waters edge or as known by the locals "over the water" in Cahirciveen.  Built sometime in the 15th century this impressive looking castle  and tower was the home to the McCarthy clan. It is probably the largest and looming castle is built on the peninsula of Iveragh, it is although tough to find sightseers are encouraged to enlist the services of  Driver Guided Tours Ireland as there are no gates, signs or paths into the castle. Once there You may however stroll around the ruins, caution is needed as there are some fall dangers.
Image courtesy of  www.activeme.ie
The Piper whose Life Spanned Three Centuries
Tom McCarthy was born in Doon, Ballybunion in 1799 and a renowned Uillean piper (ill-in), who would wander the cliffs of Doon listening to the wildlife around him and sit and play for hours on end in his favorite place at the Castle Green.Tom died on the August 3rd 1904 at the age of 105 by a common cold and his pipes were sold to a local man who claimed  the instrument played a woeful song at night on its own, finally he got rid of them and they found their way to one of Toms family members who wished to restore them, but before he could they simply vanished and people have heard songs played at Toms favorite place at the Castle Green and with a Chauffeur Service Ballybunion you can also sit and listen to the wild life around you .
Tom McCarthy |Private Escorted Tours of Ireland
Image courtesy of  https://www.ballybunion.ie
The Celtic Museum
The Celtic and Prehistoric Museum houses Ireland's only intact Woolly Mammoth skull, a complete dinosaur skeleton and a Cave Bear Skeleton. Located in Dingle County Kerry the museum is one of Ireland's chief authorities of early man. The building is divided in seven rooms each dedicated to a specific time in history, starting with prehistoric fossils from the Jurassic age then we move on to the Stone Age, Bronze Age, Celtic and Viking eras. Each time period has on display exquisite jewelry and deadly weaponry, an absolute must see on a Family Tour in Ireland
The Celtic Museum | Luxury Tours Ireland
Image courtesy of www.aboutireland.ie
Cahergall Stone Fort
Irish stone forts or cashels  are near impossible to date as many of them are multi-period sites. Some of the biggest and well known forts like Grianán of Aileach in County Donegal were built inside a much earlier Hilltop Fort.  These forts from the bronze age date as far back as 1000BC,. These impressively defensive structures were built to withstand any invader, The walls of Cahergal are 5 meters thick,  stand to a height of two metres on the western side and peaking to about 3.75 metres on the eastern side and was probably built between 500 and 800 AD.
Image courtesy of directionireland.com
Sneem River Fishing Lodge
Sneem River Fishing Lodge is located just outside the village of Sneem on the very beautiful Ring of Kerry. It offers the visitor a comfortable and relaxing getaway either for fishing, or part of a luxury family vacation in Ireland. The Cottage overlooks the river Sneem, and offers a wonderful view of the the highest mountain range in Ireland,  Mcgillycuddy Reeks. If you are keen on fishing  the Sneem river is famous for its freshwater  salmon & trout also for sea fishing you why not visit Rossbeigh in the Ross-Maine area for the finest cod, mackerel and tuna.
Image courtesy of sneemriverfishinglodge.com
The Lodge
The Lodge has three double bedrooms and two single bedrooms, all of which have their own, bathroom with bath, shower and WC. The Kitchen is modern and fully equipped with a gas cooker, microwave, fridge-freezer and dishwasher. The sitting room is cosy and inviting with a turf fire, and  a separate dining room. Constant hot water, central heating systems that are oil-fired so after a hard days fishing you can relax and unwind., the popular  Sneem fishing lodge is both welcoming, comfortable and a family friendly vacation and so your dog is also permitted
Image courtesy of sneemriverfishinglodge.com
Killarney Riding Stables
Killarney Riding Stables is perfect for a Deluxe family vacation in Ireland. Located west of Killarney Town, Killarney Riding Stables is a family run business since 1968 by Donie O'Sullivan his wife Noreen, both daughters Lorraine and Aoife, and son William. Approved by the Irish Riding Establishments, the large modern Stables house 70 horses who have been hand reared since birth and given the highest care and attention.
Depending on your itinerary, the trek can be between an hour to three hours, taking in some of the most inspirational scenery in the world, high mountain ranges, crashing coast line, ancient woods, waterfalls and crystal clear lakes. One of the more popular trails bring you to Bronze Age tombs, ring forts, standing stones that predates early Christianity.
Hannigan's Bar and Restaurant
For a unique dining experience cooked with the freshest seasonal ingredients, diners are treated to an almost decadent comfortable atmosphere, superb service, and most of all the wonderful cuisine. The look and feel of the establishment bring evoke memories of a long time ago, ornate ceilings, delicate crystal chandeliers and ornate wooden paneling. This bygone feeling sets the scene for a perfect candle light dinner on your Honeymoon Tour of Ireland.
Image courtesy of www.killarneyinternational.com
Molls gap
Moll's Gap is named after Moll Kissane, She ran a small pub (or sibin- she bean) on the Kenmare road in the 1820's. In her time, Moll was infamous for her illegal home made poitin or whiskey, which she sold in under the noses of local law enforcement. The gap  is a passageway through the bleak   bog land and mountainous terrain, which Chauffeur Services Ireland can point the other local sights on road from Kenmare to Killarney in County Kerry. This 9.5 mile route forms part of the the Ring of Kerry. Tourists visit the Gap each year to enjoy the world- famous view of the Macgillycuddy Reeks mountains. .
Image courtesy of www.activeme.ie
kissane sheep Farm
Another favorite for  family vacations in Ireland  is the Kissane Sheep Farm is a traditional Irish working sheep farm with over 1,000 sheep and lambs all living on 3,000 acres of rugged mountainous land. If on a Family Tour of Ireland you can witness Sheepdog & sheep shearing demonstrations while the younger among you may wish to cuddle & bottle feed the pet lambs A beautiful  enjoy mountain walk is available where you can overlook the incredible Scenic Area around Moll's Gap the Ring of Kerry.
Image courtesy of celticjaunt.blogspot.com
Adopt A Sheep
For a small fee You can adopt a Sheep or lamb and can give it a Name, you will receive a Certificate with All details of your newly adopted pet .The money is used for Buying Food and for General Maintenance of the Farm Land and you are welcome to come and visit and see how your Sheep is doing. A popular time for Small Group Tours in Ireland is the Spring, as Adoptive Parents will also be able to see  Baby Lambs that will be Born  on the Farm. In doing so you help preserve the Irish heritage and protection of the sheep in the mountains . In return for their support, all adoptive Parents will have free entrance to the farm during opening hours
Image courtesy of www.kissanesheepfarm.com
Torc Waterfall

With a Personal Chauffeur of Ireland You can Drive to Torc Waterfall from Killarney. There are optional side-trips to the Waterfall, which can add wo or more hours of trekking  to the top or around the Torc Mountain. This beauty spot cannot be missed as it.you get an amazing view of killarney national park Starting and finishing at Muckross House, the walks involves little effort and a minimal of climbing, along the trail you can stop by the beautiful formal gardens and historic buildings of the Muckross Demesne.
Easy access and parking make the site popular with both walkers and Small Group Tours in Ireland who often visit as part of the ring of Kerry route.
Image courtesy of  www.tumcambo.com
And there is just a taste of the world famous Ring of Kerry   If you are interested in learning more about our  Deluxe Family Friendly Vacations Ireland then simply call Toll Free from the USA or Canada on 1888 793 0416.
Alternatively, you call click the link below to find our more about our Private Tours of Ireland:
.

Mike Ryan.
Have you checked out what others have said about our tours on Trip Advisor? Click the link below to find out:

Why not check us out on our social media: