Car Service Adare Manor | Adare Manor-Part 1 , The Past
Adare Manor is long known as one of Ireland's true gems and found in Adare Village, County Limerick.  It has recently closed for a massive refurbishment, so while everyone is waiting anxiously and excitedly for it's re-opening we will be taking a look at the famous Adare Manor through the years in the prettiest village in Ireland.  Also there is so many other places within a short distance from Adare, whether you are on an Irish Golf Vacation or a Luxury Tour of Ireland there is certainly plenty to do!
The Dunraven family home in the 1830's  would have been a typical Georgian house and not the majestic Manor you see today.  Laid off his feet with gout the 2nd Earl of Dunraven was encouraged by his wife (to take his mind off the pain) to create a new architectural scheme for the house. Nobody could have guessed it would be the grand building of Adare Manor still standing today, with it's towers, bays and steep roofs.
James Pain was chosen to start the construction, his technical abilities were indisputable. Unusually, the Manor is laid out as a Calendar House,  52 chimneys mark weeks, 7 pillars to mark days and 4 towers to mark seasons. Sleuthing visitors may be able to spot references to the calendar. These kind of buildings are very rare, and no one is certain why the Earl chose this symbolism, perhaps it represents his time bed bound and counting down the days and weeks. The mystery of this building is heightened by discreet gargoyles and French or Latin mottoes graven on secluded walls.
The construction of the Manor House began in 1832 but was not completed until after the Earl died in 1850, it was thought that this was because he was prone to changing his mind so often. The Manor still stood incomplete until the Earl's son returned home from Britain to complete his father's work. The 3rd Earl decided to continue the work with an innovative new architect, Philip Charles Hardwick, who also continued with laying out the garden. Only in the early 1860s did the vision of the man three decades previously be completed. Until 1982 the Dunraven's kept their their home here. The Manor House and 840 acre estate was purchased in its entirety five years leter.
Adare Manor Golf course was the last major golf course designed by the Robert Trent Jones, Senior.   His dream design gained international acclaim as his finest creation. It was opened in 1995 to grand applause and high praise, the manor includes so many features such as magnificent mature trees surrounding the 14-acre lake anchoring the front nine. The River Maigue also flows through the entire course creating a sense of absolute beauty.
This course can be tough with water hazards, mammoth holes and rough. It will have you feeling frustrated if your accuracy is not up to scratch and this is what sets Adare aside from the ordinary, after all Robert Trent Jones had almost 500 designs to his name. To say Adare manor golf club is one of the world's finest places to play golf, would be an understatement.
Located in the heart of Limerick it truly is a centre piece in the crown of golf. The massive 840-acre parkland is recognised as one of the premiere of golf links worldwide. The 18-hole championship golf course was designed by the one and only Robert Trent Jones Senior.  Whose intention was to make his final course design and truly push the boundaries. From the back tees, it measures an incredible 7,453 yards, which will test any veteran.  For the less skilled he placed four tee position on each hole, reducing the shortest route to a still impressive 5,082 yards.
The Pro-Am was set up by renowned Limerick man JP McManus and has raised over €100 million for good causes.  The 2 day charity Golf Tournament took place in 2010 and 2015, the hope is that it will continue once the newly refurbished Adare Manor is complete.  JP McManus has confirmed plans are for the next one to go ahead in 2020.
The infamous Golf Pro-Am also attracted many famous faces from around the globe such as: Michael Douglas, Padraig Harrington, Garry Lineker, Harry Redknapp, Darren Clarke, Samuel L Jackson and Hugh Grant. Too many more to name!  The gorgeous village of Adare just comes to life during the Pro-Am and is definitely worth seeing.
Limerick (the Treaty City) is a medieval City founded by the Normans in 922. It is steeped in history with King John's Castle, the Treaty Stone and St. Mary's Cathedral. It achieved the coveted title of City of Culture 2014 something which the locals are very proud of. It is also the home of Munster Rugby and has the famous Thomond Park Stadium.  A beautiful place to visit with for a mix of historical sight seeing and modern culture.
A short distance from Adare Manor, heading to County Clare is Bunratty Castle and Folk Park.  The castle was built in 1425 and is a very popular tourist attractions. It hosts a medieval banquet, guests dine at banquet tables in the castle while drinking traditional Irish mead and listening to historical Irish music. The castle and the Folk park are very unique and charming. When walking through the folk park it's like stepping back in time, there are a number of houses all decorated to an older day and highlight the difference in living standards.  A short walk from the Folk park is Blarney Woolen Mills were you can indulge in some duty-free shopping for some original Irish gifts to bring home.
The Cliffs of Moher are a local spectacular '8th wonder of the world' in county Clare. The gigantic cliffs are 702 feet tall and stretch over 8 kilometers along the Atlantic coast.  It's the perfect view-point of the Southwest. The Burren National Park is derived from the Irish word 'boireann' meaning rocky place, and it certainly is! Mainly formed of limestone rock the Burren stretches over 15,000 Acres and is the smallest National Park in Ireland. There have been many tombs found around the Burren, made from the rocks, the famous being the Portal Dolmen, proving people have lived in the Burren for over 5,000 years.  Nearby in the heart of the Burren is the Aillwee Cave, one of the oldest caves in Ireland, view the frozen waterfall in the glorious underground and even the skeletal remains of the extinct brown bear! Also featuring outside by the cave is the fantastic Birds of Prey centre, see varied species of birds fly and feast!
Doonbeg is situated between the towns of Kilkee and Milltown Malbay and enveloped by some of Ireland's most dramatic scenery. Doonbeg Golf Course opened in 2002 and was designed by two-time British Open Champion, Greg Norman. It transverses 1.5 miles of horseshoe shaped, spectacular beach and sand dunes of Doughmore Bay. Doonbeg Golf Club was purchased by Donald Trump in 2014 and so became: Trump International Golf Links and Hotel Doonbeg. This makes it an ideal choice on your customized golf package in Ireland.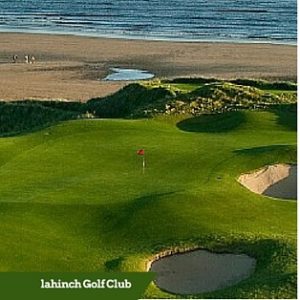 Lahinch Golf Club | Luxury Golf Tour Vacations Ireland
Staying in County Clare, Lahinch is a popular surfing resort with its' world-famous Golf Links Course. Founded in 1892, it was redesigned and the new 18-hole course was opened in 1927. It has two 18-hole courses, the Old Course and the Castle Course. Lahinch hosts the annual South of Ireland Championship, an amateur golf tournament, since 1895. It's signature hole 'The Dell' is famously known all around for it's difficultly, it is a tough 150 yards par 3. The Golf Club is set on the edge of the beach with surrounding sea views, it's no great surprise that Golfing Magazine named it Irish golf links winner 2015.
Just an hour from Adare is County Kerry,the 'Kingdom' and it is your chance to see the extraordinary Ring of Kerry. It's a highly popular place in Ireland is popular amongst all tourists, from hiking tours to cycling tours. Whether you choose to see it on foot or with our private driver tours, it really is an amazing experience to visit any part of the Ring of Kerry. You'll find the famous Molls Gap, a passing from Kenmare to Killarney with scenic views of the Macgillycuddy's Reeks mountains. Molls Gap runs through Kissane Sheep farm, a family-run farm for over 150 years. It is your chance to see sheep-dog trials, sheep shearing and even adopt a sheep!
Killarney in the county Kerry, the gateway to the Ring of Kerry. Killarney town is centred in the Killarney National Park. There are so many activities and sight's to see in Killarney. Ladies view (named after Queen Victoria's ladies in waiting) and the nearby Ross Castle are just outside Killarney town. There's the infamous Muckross House and Gardens, Torc Waterfall, the Gap of Dunloe, the 3 lakes and much, much more to see in the stunning part of Kerry.  Your luxury Irish Tour Operator can put an itinerary together ensuring that you get to see everything.
Discover the extraordinary Dingle Peninsula (Chorca Dhuibhne, in Irish). On the edge of the great Atlantic Ocean it's as far west as you can go in Ireland. Dingle is a popular fishing village packed with restaurants and pubs, it also has it's own aquarium. No visit to Dingle is complete without seeing the famous Fungie the Dolphin.The Slea Head loop drive is a spectacular way to view Kerry and the extraordinary sights along the way. The historical Dunbeg fort with it's bird-eye views on the edge of a cliff, the beehive huts and the Gallarus Oratory.
Founded in 1893, Ballybunion Golf Club is home to two testing course, the Old Course and The Cashen Course. It started off as a 9-hole course before later expanding to 18 holes, in 1927. Although its' remote location has lead to few championships being held here, Ballybunion Golf Club has been a consistently popular amongst those wishing to be challenged. It's remote location is no concern to as you can book a private chauffeur to get you there and back. The Club has grown in reputation of high standards through the years and has seen many famous faces, including ex-American President, Bill Clinton.
Staying in County Kerry brings us to Tralee Golf Club. Founded in 1896, it was later redesigned (by Arnold Palmer) and opened as it's present day course in 1984. The 18-hole course is a par 72 and stretches to 7,000 yards. With over 1,300 and visitors from over 30 countries the beautiful surroundings of Tralee are sure to keep attracting many more enthusiasts from around the globe. There is an abundance of stunning scenery around this stunning Golf course, with its' majestic mountains in the background and castle views.
That's our tour at the magnificent Adare Manor and the surrounding activities, keep an eye out for Part 2 which will feature exclusive photos of the new Adare Manor and everything to look forward to in Autumn 2017!  If you are interested in a customised tour of Ireland please press Enquire Now:

Alternatively, if you would like to call us directly Toll Free from the US or Canada the number is 1 888 793 0416
All the best,
Mike Ryan
Have you checked us out on Trip Advisor yet? To have a look at what our guests have to say about our Customized Tours Ireland packages, simply click the Trip Advisor icon below:

Why not check out our Social Media Page too for news, reviews and lots lots more…