Car Service Adare Manor | Adare Manor, Part 2- The Future
Adare Manor closed it's doors temporarily in January 2016 for what is thought to be a €50 million refurbishment.  The expected opening will be Autumn 2017 and the anticipation is great as everyone awaits the spectacular renovations of this famous building. In the past it has housed some very famous faces: former US president Bill Clinton,  Michael Douglas, Bruce Springsteen and Tiger Woods, they are only a few of the notable names to grace the prestigious Adare Manor. Allow us to arrange your very own Car Service to Adare Manor as soon as it opens and start your Luxury Tour of Ireland the right way!
Jp McManus is the famous Limerick man behind this colossal refurbishment of Adare Manor.  He purchased the magnificent building in November 2014, along with his lovely wife Noreen and family.  They sought planning permission for the multi-million euro renovations to begin in January 2016.  Billionaire McManus built his business career at his family's construction firm before going on to horse ownership and then owning his own stud.  He has had great success with horse racing through the years and established his fortune through this, amongst many other business endeavours. Jp McManus has contributed millions of his fortune towards local charities through the years and is very much a loved figure in Limerick and throughout Ireland.  If we could make him the Irish President tomorrow, we would!
The Adare Golf Pro-Am was the brain child of JP McManus and has raised over €100 million for good causes. The 2 day charity Golf Tournament took place in 2010 and 2015, the hope is that it will continue once the newly refurbished Adare Manor is complete. McManus has confirmed plans are for the next one to go ahead in 2020. The infamous Golf Pro-Am also attracted many famous faces from around the globe such as: Michael Douglas, Padraig Harrington, Garry Lineker, Harry Redknapp, Darren Clarke, Samuel L Jackson and Hugh Grant. Too many more to name! The gorgeous village of Adare just comes to life during the Pro-Am and is definitely worth seeing.  Including the Pro-Am as your private tour of Ireland is highly recommended,even if you are not a golf fanatic and simply want to celebrity-spot!
The planning permission approved for Adare Manor is thought to be adding 42 extra bedrooms to the already magnificent building, making a total of 104 bedrooms to choose from.   If you wish to have more private accommodation there will be two, three & four bedroom townhouses & Villas, 'Manor Lodges' located on the resort. There will also be elevators to all floors in the hotel. The 800 acres of Adare Manor's beautiful parkland, walled gardens and walking trails will be enhanced and improved. Nothing has been forgotten with this refurbishment, I imagine when it's completed it will resemble a small village!  There will be an in- house boutique, an in- house florist, a boot room, in-house laundry, Butler service, Valet parking and as always 24-hour security at the entrance gates.
Fancy a cocktail before dinner?  Or perhaps you've become so enthralled with that recent novel you just can't put it down?  The Library is the ideal setting to relax and absorb your exquisite surroundings.  There are also light lunch and snacks available for residents in the Drawing room and Library.  If you are seeking a Mediterranean environment then the Tack Room Bar serves Tapas and beverages each evening.
Breakfast and Afternoon Tea will be served in the deluxe Gallery Museum to start your day/afternoon relaxed in a zen-like environment. Then for those that wish to socialise for the evening The Minstrels Gallery hosts glamorous Cocktail Parties for that VIP treatment.
There will be a stunning Ballroom to accommodate up to 350 guests for a gala dinner & 440 guests when arranged theatre style. Gala dinners will be served in the new Ballroom and I'm sure this room will be booked out very quickly.  This new Ballroom will also be available for that dream wedding and with the backdrop of the Adare Manor Estate, it will provide the most beautiful scenic views for guests to enjoy and for the most incredible photographs to be taken of the special day.  With the Holy Trinity Abbey Church right beside the Manor your private chauffeur can drive you the short distance in no time.
There's also the addition of a new Conference Centre. There is now an executive boardroom to accommodate up to 30 guests for those smaller business meetings but the ballroom is also an option as it can accommodate 440 guests (when arranged lecture style) for those larger conferences. Although guests do have to to be staying at the Adare Manor to avail of the Business Centre, the meeting rooms can be booked separately.
There is choice galore with the accommodation and every room looks so luxurious that it will be impossible to just pick one! The newly renovated 104 bedrooms will be 16 Classic rooms, 63 Deluxe, 13 Staterooms, 4 Dunraven Staterooms, 4 One Bedroomed Suites and 2 exclusive Presidential Suites.
Whether you choose a Classic room or a Presidential Suite, one thing is for certain you will be treated as a VIP guest throughout.  All the rooms will have AC,  a complimentary soft drinks mini bar in each room, complimentary WIFI in all  rooms and throughout the hotel. In any room with one remote, guests can control blinds, lights, temperature, TV, music, as well as schedule wake-up calls, request valet service and so much more!
The bathrooms are like something you'd see in a classically styled Hollywood mansion. Most bathrooms will have double sinks, a separate bath and a walk-in shower. Whether you have a long soak in the tub or a quick blast in the power shower one thing's for sure, it will be in the most luxurious, deluxe ambience.
Dinner will served in the fine dining and infamous Oakroom Restaurant, named the Best Hotel Restaurant in Ireland in 2015.  Adare Manor has also earned international acclaim for its excellence in fine-dining and award-winning chefs. The Oakroom is a beautiful, intimate space overlooking the River Maigue and once opened again in 2017 will no doubt be winning more awards.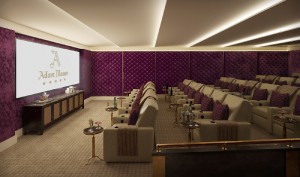 ADARE MANOR CINEMA ROOM | Luxury Family Vacations Ireland
The addition of a Cinema to Adare Manor is a very exciting, unique feature. This is no ordinary cinema, like everything else in the new Adare Manor, it will exude deluxe and comfort. It will accommodate 35 guests, who are to be seated on large leather, cushioned chairs with their choice of beverages on offer. Service and comfort you simply would not get in a typical cinema.
In addition to the in- house spa there will be 5 treatment rooms including a nail bar. Spend the day being pampered or preparing for that exclusive Gala dinner in the magnificent Ballroom. It will be a VIP experience as the spa will only be available to hotel residents. For those who wish to be active then Adare Manor's other expertise are Golf! Their Golf Course is currently Ireland's number 1 Parkland Course and with world-renowned golf course architect Tom Fazio assisting with improvements, the expectations are it will be phenomenal! There will also be improvements to the Club House with a Pro Shop and the Carriagehouse Restaurant and Bar.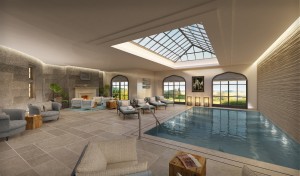 ADARE MANOR SWIMMING POOL | Luxury Small Group Tours of Ireland
There will also be a new indoor swimming Pool and lounge area. Perfect for a dip before or after a work-out in the modern, up-to-date Gym. Both are available for hotel guests only and not opened to the general public. There are also plans to provide an activity centre. Which will add an extensive range of pursuits available to guests during their stay, including: fishing, falconry, archery, clay shooting, air gun rifle range, gun dog training, demo & lessons, segway, junior off-road driving, one lane bowling alley, bicycle hire, a children's activity zone & many more!
Adare Manor is long known as one of Ireland's true gems and standard bearers, and Adare Village is known as the prettiest village in Ireland.  Despite its quaintness and relaxed atmosphere, Adare has it all.  The old gates of Adare Manor open on to the village main street where you can amble up leisurely through the thatched roof lined streets and visit craft shops, millners, boutiques,cafes and award-winning restaurants. See the church in the village that is so picturesque it'll be difficult to pass by when a wedding is taking place!
The village has supermarkets, mini markets, ATMs, craft shops, gift and souvenir shops.  Adare is steeped in history and its old Abbey ruins and ancient structures are truly picturesque.  There are some fine select bars here too where traditional Irish pub grub is available and the locals will happily trade tales and jokes under the din of Irish music, all of which adds up a bit of 'craic'!
If you've been wrestling with the Atlantic elements on a golf links or taking in a day trip of site seeing and experiences, its quite pleasurable and relaxed to have a village like Adare and accommodation like Adare Manor to unwind in and walk around as you fully soak up and appreciate your days experiences.
Adare's Old Creamery was founded as a creamery in the 1900's but bought and refurbished by current owner Helen Mackessy in the 1990's.  It's difficult to describe what the building is now because it's more than just a store, when you walk in the doors it feels like home and Christmas!  Yes, Christmas is celebrated all year round in the Creamery as the owner loves the jovial season.  There are also many traditional Irish gifts sold here and a quaint little tea-room.  With friendly, warm staff it truly is a wonderful place to visit in Adare Village. With a customized tour of Ireland you too can have a taste of Christmas during your vacation!
The anticipation and excitement for the re-opening of the new Adare Manor is felt all around Ireland and without a doubt it will be a difficult to get bookings in this highly popular place, leave that to us in Executive Tours Ireland. To make sure you have everything you want from your Deluxe Discover Ireland Tour please click on Enquire Now:

Alternatively, if you would like to call us directly Toll Free from the US or Canada the number is 1 888 793 0416
All the best,
Mike Ryan
Have you checked us out on Trip Advisor yet? To have a look at what our guests have to say about our Customized Tours Ireland packages, simply click the Trip Advisor icon below:

Why not check out our Social Media Page too for news, reviews and lots lots more…