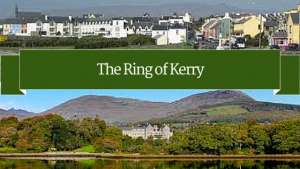 The Ring of Kerry is a highly popular place in Ireland it is popular amongst all tourists, from hiking tours to cycling tours.  Whether you choose to see it on foot or with our private driver tours in Ireland, it really is an amazing experience to visit any part of the Ring of Kerry.
The beautiful Muckross House is a nineteenth century Victorian mansion it's located close to the shores of Muckross Lake, and is in the heart of Killarney National Park. Muckross House is the ideal base from which to explore this landscape.  It was designed by well-known architect William Burn and built for Henry Arthur Herbert and his wife, Mary Balfour Herbert, it took  4 years to complete.  In anticipation for Queen Victoria's visit in 1861, the Herberts commenced work on the Garden in 1850.  Through the years the developments of the Gardens continued with additions of the Sunken Garden, the Stream Garden and the Rock Garden.
They say all waterfalls should be viewed after heavy rainfall, this is not a problem in Ireland and Killarney is no exception!  Torc means 'wild boar' in Gaelic, legend has it that a man was bewitched and turned into a boar, he burst into flames and was plunged into devil punchbowl lake and the waterfall was formed.  TheTorc Waterfall is just outside Killarney but, with a private driver, you'll have no problem finding this spectacular waterfall.  It rises 70 to 80 feet high and if you walk a little bit further up some steps, you see the surrounding breathtaking views.  A must-see in Killarney.
Ladies view is situated between Kenmare and Killarney on the infamous Ring of Kerry and is a spectacular viewing point high above all three Lakes of Killarney.  Also can be seen is the Eagle's Nest, Derrycunnihny Woods, Torc Mountain, the Gap of Dunloe, Purple Mountain, and the Macgillycuddy Reeks.  Queen Victoria's ladies in waiting showed admiration for the magnificent view and so it was named 'Ladies View'.  As well as the spectacular views there is also a lovely cafe and authentic Irish shopping.  You can have a break from sight-seeing and the best coffee in Ireland, in this serene and peaceful area. It is your vacation and it can be your own customised tour of Ireland.
Kissane Sheep farm is a working mountain sheep farm outside Killarney.  Moll's Gap also runs through the property, with it's own scenic views.  The farm is run by John Kissane and family, and has been in the family for 150 years.  In 2005 the farm was opened to visitors and many groups have enjoyed the many activities on the farm.  There are over 1,000 sheep and lambs which provide many activities from sheep dog trials to sheep shearing.  It's a piece of traditional Ireland that will leave you highly entertained and fascinated.   You can even adopt your very own sheep!   The sheep dog trials are amazing and worth the visit alone for that idyllic family tour of Ireland.
In the middle of the sheep farm is Moll's Gap, a passing from Kenmare to Killarney with scenic views of the Macgillycuddy's Reeks mountains.  Named after Moll Kissane, ancestor from the nearby Kissane sheep farm owner, who ran a small pub during the construction of Killarney in the 1920's.  The rocks at Moll's Gap are formed with Old Red Sandstone and with it's stunning views there's the perfect opportunity to take some holiday snaps.  You can also have a unique shopping experience at Avoca Handweavers and relax afterwards in their cafe.
Sitting on the edge of Killarney's lower lake Ross Castle was built in the 15th Century by O'Donoghue Mor and was taken by General Ludlow in 1952.  It was, however, one of the last buildings in Munster to hold out against Cromwell's forces before surrendering and is still standing strong today.   It's a majestic building that contains 16th and 17th Century furnishings and has recently been restored.  You can take a boat ride on the lakes of Killarney here also.
Not only is Killarney accessible by foot but a great way to see all the scenery is  bike hire!  There are many bike routes through the Killarney National Park.  The Muckross- Dini loop is an unusual one that has to be completed anti-clockwise, bringing you through the magnificent three lakes of Killarney and Killarney town.  There are many other interesting cycling routes like Ross Island and Knockreer route and The Fossa Way, all that's needed is the sunshine!  Your Irish private driver will be happy to recommend the beautiful scenic routes Kerry has to offer.
A jaunting car allows an traffic-free traditional way to travel as most travel in traffic-free zones.  Allowing you to take in the scenery at a slower pace and breath in some fresh Irish air!  Jaunting cars have been present in Killarney for over 220 years and prove very popular with tourists, as it's a unique way to view the beautiful Killarney.
In Killarney town itself there is an energy and bustle that can't be compared to anywhere else.  It's filled with shops, cafe's, hotels, restaurants, pubs and people!  Killarney Park Hotel is a luxurious 5 star hotel in the heart of Killarney town centre.  The superb hotel is a welcoming break for guests who have been busy sight-seeing in Killarney and give you a chance to revive and relax.Another wonderful luxurious choice to be in the heart of Killarney town centre.  The Plaza boast a sophisticated Piano Bar and Spa, to cover relaxation, health and wellness! Both exclusive hotels are a well- deserved treat on your luxury Irish vacation.
Killarney is the ideal place to combine history, activities, sight-seeing, breath-taking views, fine-dining and luxury, to name just a few things! If you are interested in a Customised Tour of Ireland and would like more information, please click on the Enquire button below:

Alternatively, if you would like to call us directly Toll Free from the US or Canada the number is 1 888 793 0416
All the best,
Mike Ryan
Have you checked us out on Trip Advisor yet? To have a look at what our guests have to say about our Customized Tours Ireland packages, simply click the Trip Advisor icon below:

Why not check out our Social Media Page too for news, reviews and lots lots more…