Trump International Golf Links & Hotel Doonbeg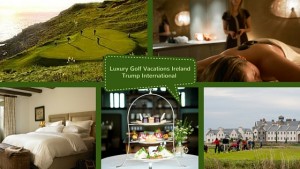 Doonbeg Golf Course is situated in a village in country Clare in the west of the Atlantic coast of Ireland and is a must-see on any Customized Tours Ireland package. The word "Doonbeg" is pronounced "Dún Beag" in Irish and means "small Fort" and it is possible that the name refers to Doonbed Castle. Doonbeg Castle was built in the 16th century and is historically associated with the MacMamon and O'Brien Clans. Doonbeg is situated between the towns of Kilkee and Milltown Malbay and enveloped by some of Ireland's most dramatic scenery.
The core of the village is highlighted by a structurally and aesthetically noteworthy seven-arched stone bridge that crosses the Doonbeg River and separates the village. The passage is enclosed by the 16th century Doongeg Castle and its residual buttresses. Legend has it that the bridge gained its notoriety from a lady called Mary Belfast who used to dwell under its arches and the remnants of her dwelling can still be seen today.
Close to the village lies the 5 Star Trump International Golf Links & Hotel which sits magnificently on the waters edge. It provides guests with expansive rooms and suites while offering 5 Star self-catering accommodation and fantastic amenities such as their first-rate golf links, spa and world acclaimed dining.
Doonbeg Golf Course
Doonbeg golf course opened in 2002 and was designed by two-time British Open Champion, Greg Norman. It transverses 1.5 miles of horseshoe shaped, spectacular beach and sand dunes of Doughmore Bay. Wind direction on this course can attract golfers who enjoy a more stimulating game while offering superb aspects of the Atlantic. This makes it an ideal choice on your customized golf package in Ireland.
Formerly the Doonbeg Golf club, the remarkable golf course at Trump International has been fashioned from sand dune foundations and comprises 14 greens and 12 fairways. It takes approximately four and a half hours to complete a round of golf at the course as it has an exclusive combination of five par 3s and five par 5s. The course design begins with a single, par-72 loop of nine holes out and nine holes back. From the back tees, the course is 6885 yards in total and in 2010 it was awarded European Golf Resort of the year by the IAGTO.
The course also has a superb driving range which holds twenty bases with targets. The complimentary driving range is available to every golfer in residence. Individual and group golf lessons are available at the course throughout the year and are provided by golf academy professions to beginner golfers right up to advanced improvers.
If you are on a luxury small group tour of Ireland and have children in the group, then the Junior Club is a fun and entertaining option for junior golfers of all abilities.
Accommodation at Trump International
Accommodation at the Trump International Hotel is ideally suited to luxury family tours Ireland packages as they offer a great selection of luxury accommodation to guests. The Trump International Hotel offers guests airy rooms and suites while offering 5 Star self-catering accommodation, phenomenal amenities and un-matched service. The rooms and suites are designed in old-world opulence and sophistication and are filled with fine furnishings, artwork and antiques.
The Trump International Hotel, Doonbeg is ideally suited to couples, small groups and golfers on small group tours of Ireland as the suites are designed with space, relaxation and most importantly, privacy in mind.
Guests can choose from a range of accommodation including classic rooms, courtyard rooms, courtyard view suites, ocean view suites, links cottages and self-catering cottages. Of particular interest are the Courtyard Rooms, the Ocean View Suites and the Links Cottages.
The Courtyard Rooms are situated in the Courtyard Suites and close to the hotel's spa, restaurant and golf shop. The rooms are more than spacious at 285 square feet and are extremely well appointed to a phenomenal standard. Every detail of these rooms has been designed with extreme luxury at the fore, right down to the goose down duvets on the 6 x 6-foot king size beds to the marble bathrooms that feature walk-in rain showers.
Conversely, the Ocean View Suites are superbly furnished over two floors and exude a homely feel. They feature a private kitchen and a sitting room with a grand fireplace. Nearly all of the suites include a deluxe 6 x 6-foot king size bed and have well-appointed bathrooms filled with Burren Perfumery toiletries.
The true masterpieces of the Trump International Hotel are the Links cottages which are fully customizable. These are truly ideal if you are booking a luxury chauffeur tours Ireland package vacation as guests can choose to stay at cottages that offer one to four bedrooms. The self-catering cottages are huge as sizes vary from 11oo too 2800 square feet. They also feature a private kitchen, French limestone floors, marble bathrooms and have spectacular views of the fairways.
The Hotel offers two different dining experience: Trumps Bar & Restaurant and the Ocean View Restaurant. Diners are truly spoilt for choice from the cutting edge cuisine offered at both restaurants.
Dining at Trump International
Dining at Trump in an unequalled experience from the décor and ambience to the mouth-watering cuisine. The Ocean View restaurant, as the name would suggest, overlooks the Atlantic Ocean, and provides diners with a superb dining experience by providing top quality dishes. Dishes are prepared using local produce and include dishes such as Galway Bay Oysters, Pan Fried Scallops and Prawn in Kataifi Pastry, and all dishes are complemented by an extensive wine menu.
Alternatively, Trump's Bar & Restaurant sits at the center of the golf links overlooking the 18th green and is a medley of inviting Irish character and contemporary flair. It is a superb restaurant in which to dine with family or golfers on a private guided tour of Ireland. Sumptuous Starters include Fried Calamari, West Clare Musssels Mariniere, Doonbeb Crab Claws and how about Pan Seared Clare Island Salmon, Cockles, Mussels, Prawns & Tagliatelle Pasta, Pan Seared Fillet of Hake for dinner.
If you do not feel like dining out, no problem, because the Trump International Hotel offers In-Room dining. All you have to do is order from the restaurants menus and the meal will be delivered right to your room or suite.
For a little bit of pampering, why not try out Afternoon Tea at Trump International and chill out in the exquisite Tea Rooms and absorb the breath-taking views of the Atlantic Ocean. Enjoy the mouth-watering selection or freshly prepared pastries and cakes which include scrumptious finger sandwiches, scones with clotted cream and Doonbeg preserves, mini-pastries and cakes and a refreshing pot of tea or coffee.
After that menu, it many be advisable to visit The Trump International Spa BEFORE dinner or you may not even fit into the towel.The White Horses Spa
As soon as you walk through the doors of the spa, you are engulfed by the amazing smells emanating from the treatment rooms and your shoulders immediately begin to sink down and relax.  The interior of the spa is a blend of archaic and modern-day décor, with glistening candles strewn throughout.
Facilities at the spa include a steam room, sauna and whirlpools. Equally the luxurious spa offers a range of services which includes massages, body treatments and a magnificent beauty parlor that offers facials and hair and nail services. All their treatments use Jane Iredale, Bumble and Bumble, Elemis and Voya so whatever your preference, there is a treatment for you.
The spa is ideal for couples or groups with varying interests as the selection of treatments range from deep tissue massages for golfer post round or for the long suffering golf widow who has instead chosen to go sightseeing for the day and needs a relaxing facial. There really is something for every member of the Driver Guided Tours Ireland package.
Doonbeg is awash with activities to keep every member of the group happy and entertained, whether you are a family touring Ireland or a golfing group or couple. At Executive Tours Ireland, we can arrange hotels, sightseeing, golfing, bike rides, kayaking, dolphin watching, horse-riding on the beach or any activity that your heart desires.
Doonbeg offers a plethora of activities and your Personal Driver Ireland will always be happy to take you there.  Please contact Mike Ryan [email protected] for more information or simply call our Toll Free number from the USA or Canada: 1 888 793 0416
All the best,
Mike Ryan
Check us out on our Social Media: