Golf Vacations Ireland | Why Golf in Ireland?

A golf vacation in Ireland requires a lot of planning, this is crucial so that you have as much time as possible on the course.  Ireland has become an increasingly popular place to visit for a golf trip.  Why?  Scenery, scenery and more scenery!  Ireland offers the natural backdrop of lush green land, majestic cliffs and beautiful beaches; the ideal setting for any golf course.  There are over 300 courses in Ireland so Mike Ryan has narrowed it down to a few of his favourite courses and picked them from all corners of the Emerald Isle.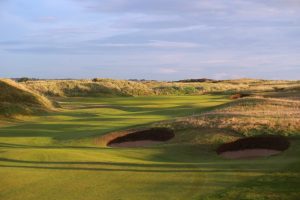 Portmarnock Golf Club opened in 1894 with just 9 holes, it was later extended to an 18- hole course in 1896 and then a further 9 holes joined the course in 1971. This distinguished course, designed by Bernhard Langer, is 117 years old. Portmarnock has a flat green which makes for relatively easy-going fast play, each hole however is unique. It is a world-wide known, challenging course. Portmarnock is thought to be the best Championship Course in Ireland and was ranked by Golf Digest and the best Golf Club in Ireland. Portmarnock was also the venue for the first Irish Open in 1927.
Extending over 2km out onto the Atlantic, the Old Head Golf Course rests on 7220 acres of land. It's located in Kinsale, Co. Cork, famously known as the as the nearest point to where the Lusitania was sunk by a German torpedo during World War 1, in 1915. The course was originally designed as a walking course and though challenging this is still encouraged today. The dramatics surroundings of clifftops, makes this a very memorable golf tour in Ireland. It has been labelled 'one of the most beautiful Golf Courses in the world' by the PGA advisory board.
The Royal Portrush Golf Club is found in the fishing village of Portrush, in County Antrim in Ireland. It was formed in 1888 it was only a 9-hole course, until 1889 when it was extended to the 18-course (Valley Course).
Then in 1929 another 18-hole course (Dunluce Course) was added by the renowned architect, Harry Colt. The Royal Portrush Golf Links hosted the British open in 1951 and it is set to be back there in 2019. It is situated in front of the White Rocks beach and boasts spectacular views of the 13th century Dunluce Castle. Everything you can expect to see on an Irish golf trip.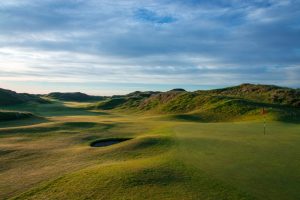 Designed in 1890, the Island Golf Club was one of the 12 first Golf Clubs to be founded in Ireland and is the third oldest in Dublin. It is an island and is surrounded by striking scenery, Donabate beach, Broadmeadow Estuary and the Irish sea. This spectacular Irish Golf Club has made a priority of protecting its' heritage and beautiful nature around it. In 2015 it was ranked as number 13 in Golf Digest Ireland's top 100 courses in Ireland. In the past you could only reach the island by boat but now you can have a deluxe private driver take you directly to the course in luxury and style.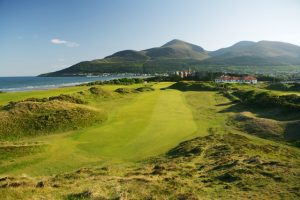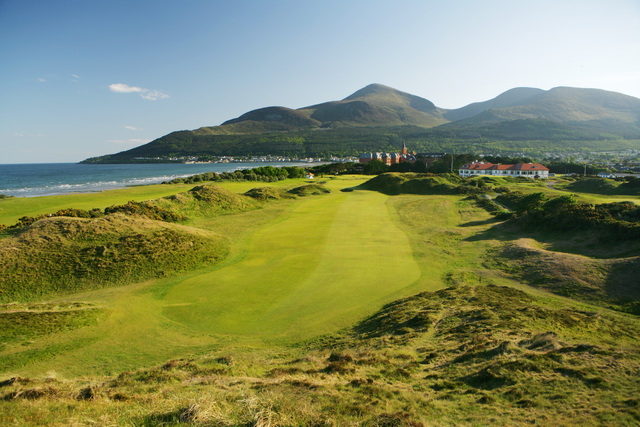 The Royal County Down Golf Club; this popular Deluxe Irish Golf Links is high on the list of all golfer's to visit. Founded in 1889 the Golf Club is located in the Murlough Nature Reserve and is in the seaside resort of Newcastle in Co. Down. At 127 years old, it is one of the oldest Golf Clubs in Ireland and has two 18-hole link courses, the Championship course and the Annesley links. It stretches out over 7,200 yards along the shores of Dundrum Bay, making it one of the most naturally stunning courses in the world.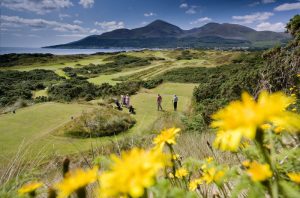 The Royal County down has made impression contributions to Irish Golf and was only the second venue to host the Walker Cup. Most recently, this year 2016, Golf Digest named it the best Golf Course in the world.
Found County Clare, Lahinch is a popular surfing resort with its' world-famous Golf Links Course. Founded in 1892 it was redesigned and the new 18-hole course was opened in 1927.  Lahinch hosts the annual South of Ireland Championship, an amateur golf tournament, since 1895. It's signature hole 'The Dell' is famously known all around for it's difficultly, it is a tough 150 yards par 3. The Golf Club is set on the edge of the beach with surrounding sea views and Golfing Magazine named it Irish golf links winner 2015.
This is just a sample of some of the hundreds of golf courses to play in Ireland.  As stated above this can take a lot of planning, we will do all that for you. Complete with your Irish private chauffeur to transport you in luxury; from the airport to your deluxe accommodation and to each and every golf course. If you would like further information on a Luxury Golf Tour of Ireland, or would like more information on any of our tours then please click the Enquire button below:

Alternatively, if you would like to call us directly Toll Free from the US or Canada the number is 1 888 793 0416
All the best,
Mike Ryan
Have you checked us out on Trip Advisor yet? To have a look at what our guests have to say about our Customized Tours Ireland packages, simply click the Trip Advisor icon below:

Why not check out our Social Media Page too for news, reviews and lots lots more…