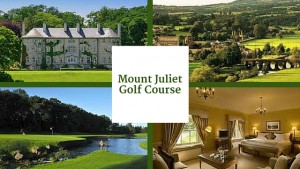 Looking for an exceptional golf course to play in Ireland that has outstanding accommodation, dining, spa treatments and outdoor activities like fishing on its grounds? Then we have the perfect spot for you.. The Mount Juliet Estate in Kilkenny.

This week we traveled to Kilkenny to check into and check out the Mount Juliet Estate. We want to tell you all about the historical town of Kilkenny  and give you the low-down on the outstanding  Jack Nicklaus Signature Course at the Mount Juliet Estate, its resplendent accommodation, dining, treatment rooms and outdoor activities…
Captivating Kilkenny
Kilkenny is a beautiful town situated in the state of Leinster in the southeast of Ireland. Its idyllic location sits on the River Nore and on the banks of the Boyne in county Meath.
The Irish name for Kilkenny is "Cill Chainnigh" and means "Cell or Church". The name was derived from its early sixth century ecclesiastical foundation when St Canice's Cathedral was built in honour of St Canice and the name was given to the city, which translates into English as Kilkenny.
Kilkenny is steeped in history and its culture is abundantly clear in its historic building such as Kilkenny Castle, St Francis's Abbey and Rothe House.
After the Norman invasion of Ireland, Kilkenny Castle was built and the town was protected by a collection of walls. In 1609, over 400 years ago, King James I of England granted Kilkenny a Royal Charter establishing it as a city.
Kilkenny is renowned for its culture, Theatre and its many museums.  Kilkenny's phenomenal culture is brought to the fore at the Kilkenny Arts Festival which attracts thousands of tourists to Ireland every year.
Mount Juliet Golf Course
Nestled in the magnificent Kilkenny countryside is the resplendent Mount Juliet Estate where Mount Juliet Golf Course resides. The expansive estate was an exquisite family home until 1989 but now operates as a luxury five-star hotel and golf resort.
The Jack Nicklaus Signature Course
The Jack Nicklaus designed golf course opened in 1991 and attracts every caliber of golfer from around the globe including golfing legend Tiger Woods. The glorious woodland estate houses the impressively splendid Jack Nicklaus parkland golf course.
This remarkable course has a striking 3rd hole where the par 3 begins at an elevated tee and continues to a glorious green protected by a stream and a lake.
The rebellious 10th hole throws a cluster of trees in the mix, challenging any golfer to up their game.
The bold closing hole houses water to its left side and adding to its complexity, a very narrow green, inspires golfers to bring their best game.
Facilities at Mount Juliet Golf Course
As well as the magnificent golf course, Mount Juliet offers player a superb driving range that has attractive roofed bays, several grass tees and target greens.
There is also a bunker green and a chipping green for golfers to enjoy. For those who like to warm up before they tee off, there is a great practice putting green.
If you are a beginner or novice golfer, the course offers professional golf tuition with programmes and clinics tailored to individual needs.
If you are feeling a bit peckish during or after your golf game, the course also provides a catering facility at the 10th green for golfers to enjoy hot and cold snacks.
The course has its own golf shop which stocks everything from golf clubs to clothing and golf shoes to caddy bags, to ensure that a golfer has everything they need before hitting the green.
Accommodation at Mount Juliet
The outstanding estate includes many striking buildings that offer accommodation to guests.
Manor House
Firstly, The glorious Manor House comprising 31 superb bedrooms, amply named after their former prestigious guests including the King of Ossory and The Black Earl.
The luxurious Georgian style rooms are bright and expansive and exquisitely decorated. Rooms come in a variety of shapes and sizes and include standard rooms, superior rooms, Riverview Rooms and a presidential suite.
Hunters Yard
Hunters yard was originally used as a working farm yard for the estate with horses and hay lofts as well as being used as lodging for the coachmen, stable hands and the grooms.
Today, the outstanding building is resident to 16 superb vast, light rooms. The immediate feeling of tranquility engulfs you as you meander your way through the grounds of the estate to the yard.
Rose Garden Lodges
As lodges go, the Rose Garden Lodges are, by far, the nicest and most elegant accommodation I have had the pleasure of visiting. They sit effortlessly in stunning parkland and contain everything from en-suits bedrooms to a fully-equipped kitchen.
Chauffeurs Lodge
Chauffeurs Lodge is a contemporary secluded refuge which boasts glorious sun terraces, luxurious lounges and exceptional custom kitchens.
Dining at Mount Juliet
Mount Juliet offers an exceptional selection of dining choice, each as brilliant as the next. The outstanding dishes are as aesthetically awesome as they are flavorsome.
Lunch & Afternoon Tea
A variety of light meals and afternoon tea are offered in a selection of glorious and elegant rooms including The Morning Room and The Major McCalmont Room at the Manor House.
Lady Helen's Restaurant
Named after the previous owner of Mount Juliet, Lady Helen's is a Michelin star restaurant that has won three AA Rosettes. There is a charming and opulent ambiance in the restaurant with exceptional view of the grounds.
Dishes fashioned in this restaurant offer a transnational flair using local ingredients but the secret to the amazingly more-ish fair is the herbs that are grown in the kitchen garden, herb garden and farm.
Kendal's Restaurant
The Elegant Kendal's Restaurant lies in Hunter's Yard and is an alluring French Brasserie which presents excellent food from a contemporary French Menu.
 The Presidents Bar
There is an immediate and obvious feeling of welcome when you walk through the doors of the Presidents Bar. Guests are offered a vast menu of soup and snacks while the creative charcoal grill offers a remarkable tasty menu.
The Major's Bar
Mount Juliet presents a second bar to guests, amply named after Major General Sir Hugh McCalmont and Major Dermot McCalmont, who both resided at the estate.
The views from the Bar are terrific and take in the River Nore and the meadows of the estate and an idea spot to have a pre-dinner drink or post game discussion.
The Spa at Mount Juliet
Mount Juliet offers guests a selection of tranquil treatment rooms in which to relax and rejuvenate after a day's sightseeing or golfing. There are a terrific range of treatments including holistic treatments, facial treatments, body wraps, therapeutic massages, men's treatment, maternity treatments and hot stone therapy.
After a rejuvenating treatment, why not enjoy some of the many activities that are offered on the grounds of Mount Juliet. Could you picture anywhere more exquisite in which to have a go at archery or falconry or even horse-riding and fishing. The Mount Juliet estate has it all in bucket loads. There is so much to do and see at this estate that you will have to book a second Private Tour of Ireland to get it all done.
Well that wraps up our tour of Mount Juliet in the beautiful and impressive town of Kilkenny.  If you would like more information on this tour or any of our Private Tours of Ireland, then please click the enquire button below:

All the best,
Mike Ryan
Why not check out what others have said about our tours on TripAdvisor by clicking the link below.

Have you checked us out on our social media yet? Just click the links below: